Great basketball is synonymous to great competition. That's exactly what fans saw last night at the TD Garden in Boston as the Celtics hosted the Wizards. Even though both teams were coming off of games the night before, they gave fans everything they could have hoped for.  That being said, there was lots of trash talking and back and forth between the two clubs. Marcus Smart and Bradley Beal got tangled up and that resulted in a technical foul on Beal. The best action came unexpectedly, as John Wall and Jae Crowder got face to face. It began mildly, with the two meeting at noses, but the incident ended with an open palm slap to the face.
So what really happened?
After a fourth quarter that was dominated by Isaiah Thomas concluded. The two teams showed good sportsmanship and congratulated each other. Wall walked toward Thomas and paid respect to the young point guard that dropped 20 points in the fourth quarter alone. Crowder then approached Wall and words were said. A little jawing between two great players is always fun to see until someone takes it too far. Crowder crossed the line when he put his finger onto Wall's nose.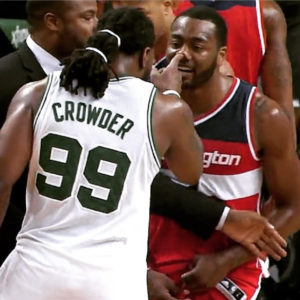 Wall dropped all formalities and slapped him across the face. Coming to the aid of their teammates, players from both sides pushed and tussled with one another. Eventually, the teams were separated on the court. The debacle spilled into the locker room area and things would calm down after the Boston Police were brought in.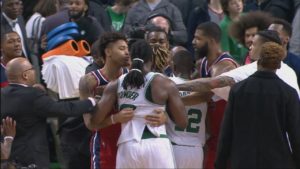 The melee finally settled and the locker rooms became available to the media. Celtics' players were mum about the events on the court, but Wizards' players did not mind voicing their thoughts on the matter.
"They are a physical team and they try to play dirty and take you out of your game." Said Otto Porter Jr.
These teams have had tension brewing for the past few years. It'll be interesting to see what will transpire when they meet again later this month in Washington.
Fans love it when players "jaw" at one another, but things become serious when they get physical. Wall simply defended himself by giving Crowder a nice slap. As of yet, no fines have been issued, but it's assumed the NBA will at least make a statement about the matter.
ICYMI: Things got heated between John Wall and Jae Crowder in Boston. However, Wall states Crowder started the confrontation#dcfamily pic.twitter.com/tyZfia9VIX

— FOX Sports Radio1340 (@1340AMFOXSports) January 12, 2017
Drama aside, Boston defeated the Washington Wizards 117-108. Washington must regroup, as they are hosting the Philadelphia 76ers Saturday.