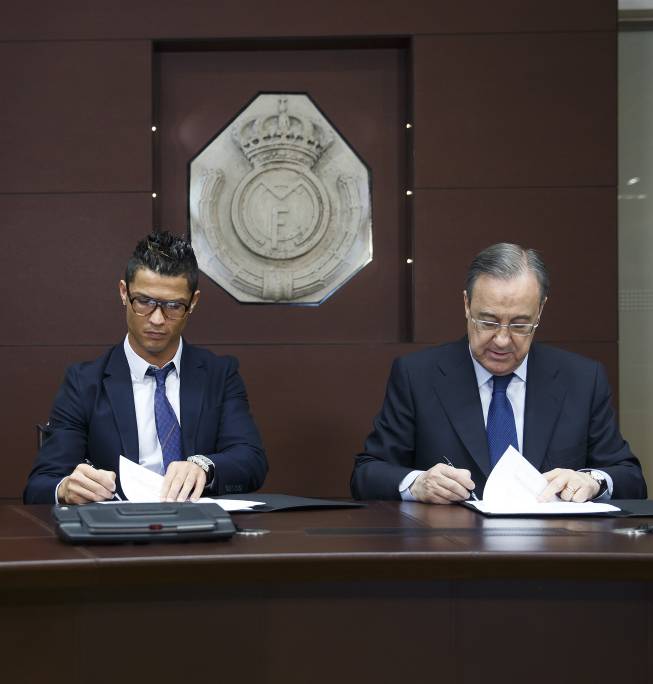 Photo credit via Real Madrid
Cristiano Ronaldo's legend continues to grow he is not going anywhere. He signed a five-year contract extension on Monday that will keep him at Real Madrid until 2021, the terms of the deal were 500K a week after tax according to The Sun.
Therefore I thought this would be perfect opportunity to provide my overall thoughts. This deal shocked the soccer world due to the length of the contract because when it is over Cristiano Ronaldo will be 36 years old. Therefore keep this in my mind throughout his career he has been very durable so you can expect Ronaldo to live up to his contract.
Ronaldo is considered by most the best soccer player in the world because of his consistency over the years. He always performs at the highest level in the biggest games. At the start of 2015-16, he became the leading scorer at Real Madrid with 230 goals in 203 games he surpassed Real Madrid legend, Raul.
Take in these mind-blowing stats in during Ronaldo legendary Real Madrid career. Cristiano Ronaldo has netted 372 goals during his career in 360 games  for Real Madrid. Ronaldo has 80 goals for Madrid with 96 goals in total for the UFEA Champions league, which is the best in Champions League history. Cristiano Ronaldo broke another record for Real Madrid with 16 goals in a season in Champions League back in 2015-16 season.
Ronaldo helped guide Portugal to their first European Championship in the process, he became the all-time leading scorer for Portugal with 66 goals and counting. In addition to having the most international appearances for his country with 135 games and counting.  He also became the first player to ever score in four different European competitions for his country. However, while he made history Ronaldo suffered a leg injured and was carried off in the finals of the Euro 2016 tournament against France.
Currently, Real Madrid sits at the top of the table in La Liga in a very tight race with 27 points. Ronaldo is currently struggling to score he has five goals, however, give him some time to recover from injuries  he will be back in fine form. However, even though Ronaldo is not in his best form currently he has help from Gareth Bale with seven goals, in addition, a returning Alvaro Morata with eight goals.
Trophies/Achievements
3 Times UFEA Best Player In The Game
2 Times with Real Madrid  2014, 16
3 Time Fifa Ballon D'Or (The World's Best Player)
2 Times Real Madrid 2013, 2014
3 Time UEFA Champions League
2 Times with Real Madrid 2013/14  2015/16
1 Time Champion La Liga 2010-11
It wasn't even a question whether Real Madrid should have resigned Ronaldo to a contract. Yes, he will be 36 years old when his contract is over however, he will still be a very productive player. The only blemish on his career that fans or experts could be that he has only has won one La Liga trophy. Due to the fact Barcelona has been a deeper team than Real Madrid for years up until the last few years, recently where Real Madrid have claimed their bragging rights in Europe as one of the best teams.
Real Madrid made the best decision because from a business perspective. Due to the brand power Ronaldo that he currently has he rakes in millions for Real Madrid in jersey sales, TV, merchandise, commercials and much more. When you have an opportunity to lock up your best player you do it's like the Lakers not resigning Kobe Bryant, the Spurs not resigning Tim Duncan lastly the Patriots not resigning Tom Brady it just doesn't make any sense.
The stats were provided from the official Real Madrid website, ESPN FC and UEFA website.
Follow me on Twitter @Nino_416