Air Force Reserve Celebration Bowl Preview
As the calendar inches close to the Holiday Season, it is a time of year many college football fans circle on their calendar. A time of giving, excitement, and even a little controversy it is college football bowls season yet again. The North Carolina Central Eagles (9-2) will square off with the Grambling State Tigers (11-1) in the Georgia Dome in a battle of two proud programs and fan bases alike.
Eagles:
For North Carolina Central, it is their first Division One postseason appearance after winning the Mid-Eastern Athletic Conference outright. The Eagles had to share the crown the previous two seasons. North Carolina Central coach Jerry Mack said, "We have a chance to do something that has never been done before in our school's history, we know this will be the last game of 2016 and we can make history". Besides two early season losses to cross city opponent Duke and the still undefeated Western Michigan squad they are winners of nine consecutive. A big time win over last year's inaugural Celebration Bowl champion and in-state rival North Carolina A&T to clinch their bowl berth was the validation to an outstanding run for the Eagles.
Tigers:
Grambling State who has rich history and tradition in their own right, come into this game on an eleven game winning streak their only blunder with only a ten point loss at Arizona their only blunder. "We are pleased with our opportunity of representing the SWAC, we are a versatile team that can win in a variety of ways," said head coach Broderick Fobbs. Grambling State is a 25-time champion of the SWAC Conference and defeated two-time champion Alcorn State to earn the right to play in this game. With Saturday's Celebration Bowl in the Georgia Dome, it will mark the third game in a row in an NFL venue for the Tigers. They played in the Superdome in New Orleans in beating Southern in the annual Bayou Classic and then played the SWAC title game at NRG Stadium in Houston.
Both the MEAC and SWAC team gave up their rights to be included in the FCS Playoffs in order to represent their respective conferences in the Celebration Bowl.
Players To Watch: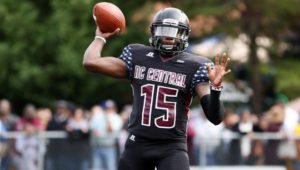 North Carolina Central: Malcolm Bell, QB
Bell rushed for over 100 yards against North Carolina A&T, currently, a redshirt senior he has made history. He's the first Eagle to throw for 6,000 yards and run for 1,000 yards.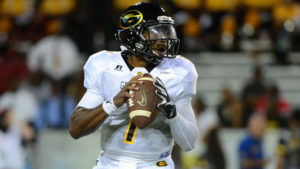 Grambling State: Devante Kincade, QB
Kincade ranks first in the SWAC in passing efficiency (171.6) and first in completion percentage (65.2). The SWAC Offensive Player of the Year finished the season with a mind-blowing 28:3 touchdown-to-interception ratio.
The kickoff to bowl season takes place Saturday afternoon in Atlanta, Georgia for the second annual Celebration Bowl.