Washington Redskins Head Coach Jay Gruden addressed the media before day two of Redskins Training Camp. Gruden seemed to be in good spirits. And noticeably focused on the task at hand. That task is to figure out this team's identity and continue to improve overall as a team. The NFC East will be very tough this season. Coach Gruden is well aware of this, along with the rest of the Redskins staff and organization. However, they went out and made some great offseason acquisitions and drafted well this past offseason. Let's take a look at three things to look out for this Redskins' 2019 season that Coach Gruden addressed at camp on Friday.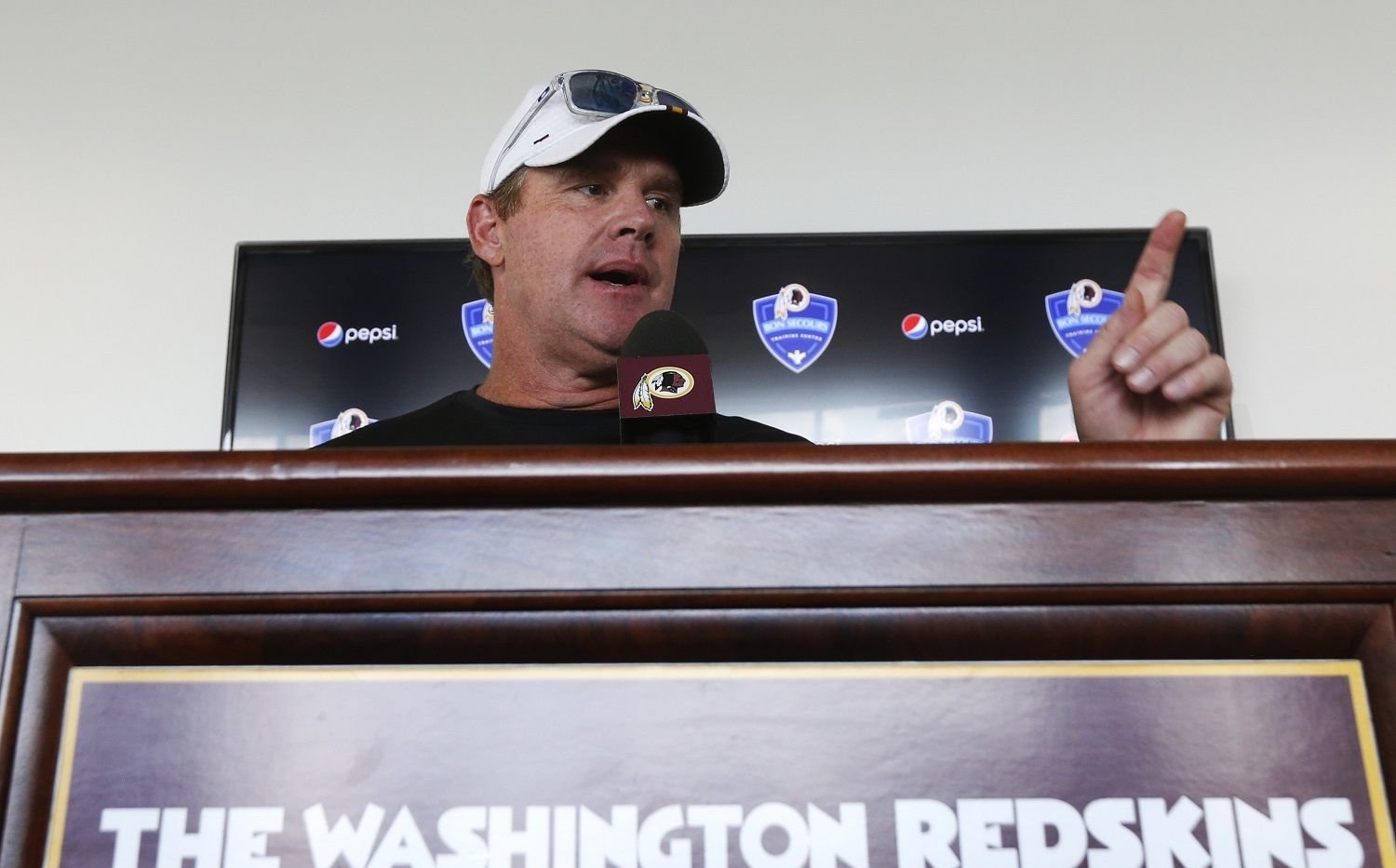 Gruden has two very good running backs. Adrian Peterson will serve as a mentor for Darius Guice
Coach Gruden is well aware that he has two very good running backs on the Redskins roster. Adrian Peterson has been in the NFL since 2007. He has ran for over 13,000 yards in his career. Gruden feels that even with all of the work he has put in, Peterson still has gas in the tank. He will be called upon this season. Peterson also will serve as a mentor for second year running back Darius Guice. The Redskins are high on Guice and Darius is coming back into 2019 with a vengeance after coming off injury in the 2018 season. Gruden addressed the situation before camp started Friday morning.
"Anytime you have a future Hall of Famer on the roster and see how they have taken care of their bodies over the course of time, like Adrian has, it is a great example for these young running backs. We all understand that the running back position and the longevity isn't very long. Watch Adrian and watch the way he works in the offseason, prepares, keeps his body right. It's just a great example for not just Darius, but for the whole team."
Coach Gruden knows the veteran leadership at the Running Back position will be vital if the Redskins want to be competitive this year in the NFC East.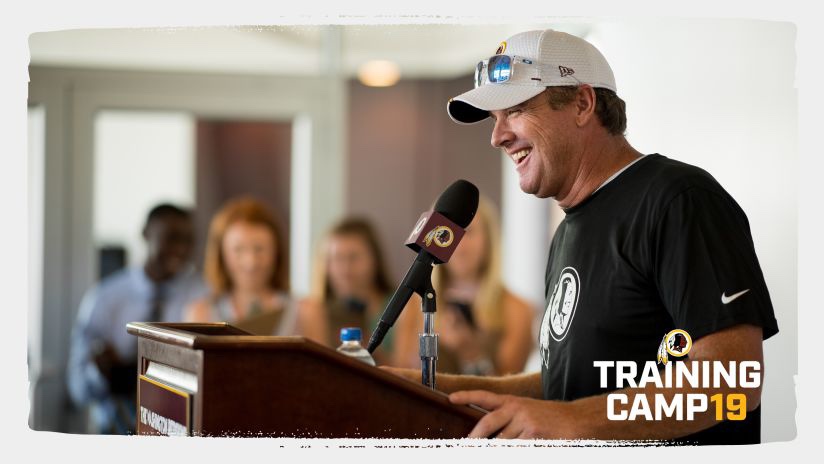 The Washington Redskins young Wide Receivers will need to step up their play this season for the Redskins to be successful
Coach Jay Gruden has been assessing the young Wide Receiver talent on this Redskins team very closely. There is a surplus of receiver talent on this team. Players like Terry McLaurin, Josh Doctson, and Kelvin Harmon are expected to step and positively contribute to the Redskins aerial attack. Gruden addressed his feelings about the Receivers' performance thus far before camp yesterday.
"Very good. I've been very impressed the entire time. Obviously it's only been one day, but we have had a chance to watch throughout the rookie minicamp and the mandatory camp. I've been very impressed not only with their play ability, but their mental ability and toughness. It's the little things they do. Especially Terry (McLaurin), Terry McLaurin is very unselfish. If you watch him at Ohio State, he's one of the best blockers in college football. He was on Special Teams, he was one of the best Special Teams players."
The Redskins Receivers look to keep their positive momentum going as camp progresses.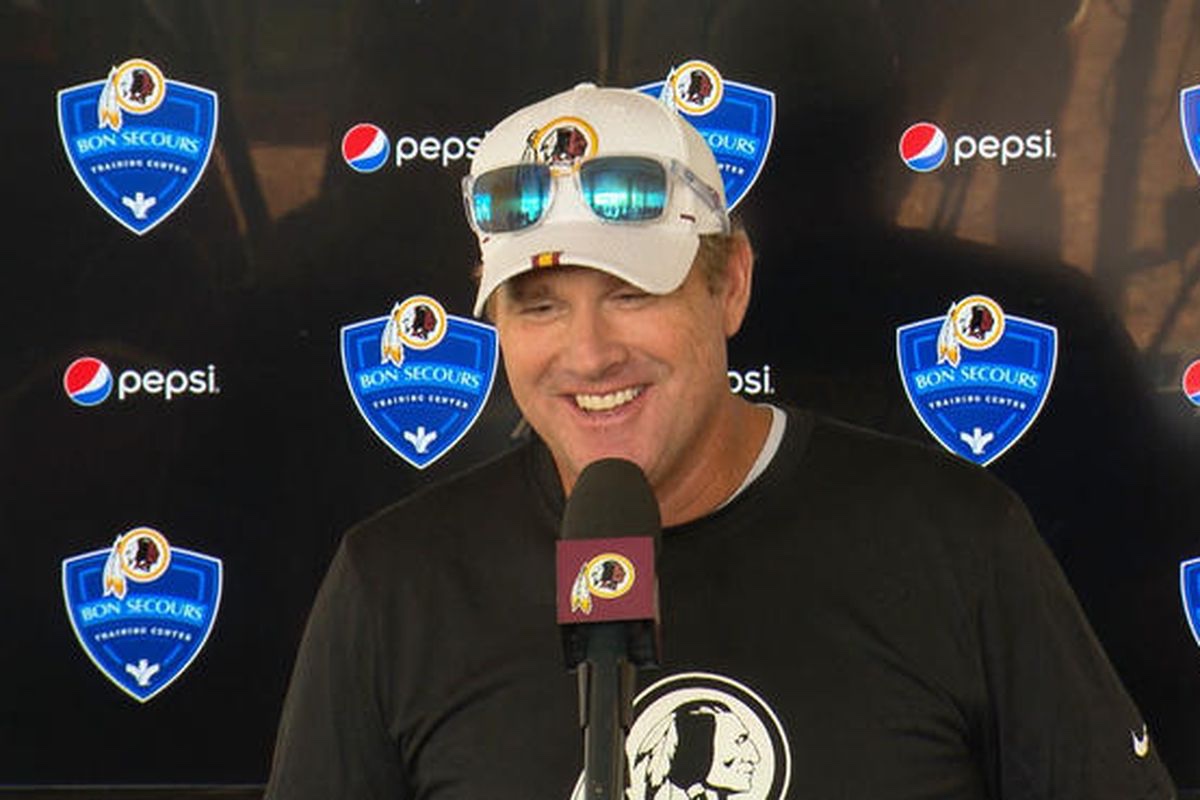 Gruden is keeping a close eye on Rookie QB, Dwayne Haskins
Dwayne Haskins is coming in with very high expectations coming out of The Ohio State University. Anytime you draft a Quarterback in the first round the expectation is that the Quarterback could possibly contribute right out the gate. Gruden is assessing this situation closely. The Redskins have two veteran QB's on the roster currently in Colt McCoy and Case Keenum. It is to be determined who will start at the Quarterback position once the season begins. It will be an open competition. If Haskins wants the starting QB spot Gruden is coming with the expectation that Haskins will have to earn that spot like anyone else would that plays for him.
Gruden on Haskins development; "He's doing better. He's going to have his hiccups here and there. Case (Keenum) did when he first started here with the new system. He had new terminology, new systems. Different ways of changing the snap count. The most important thing you got to work on your snap count whether you're a rookie or a veteran, the snap count is critical."
Working on the snap count is not the thing Haskins has to work on most. However, Gruden stresses that is something to be mindful of. Haskins is in the big leagues now. The NFL is the real deal. Under Gruden's watchful eye Haskins should be fine. Will be something to keep an eye out on as camp progresses and the preseason approaches.