Another top team falls in Morgantown; (18)WVU beats (2)Kansas 85-69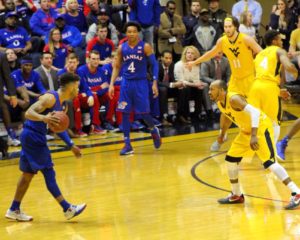 On Tuesday, The Kansas Jayhawks came into Morgantown, West Virginia on an 18-game win streak. The 18th ranked Mountaineers, looked to redeem themselves after two straight losses, who better to do it against second-ranked Kansas Jayhawks? West Virginia did not disappoint and would put on a show with high-flying dunks, and long distance threes. The Mountaineers put a beatdown on the Kansas Jayhawks beating the second-ranked team in the nation 85-69.
Mountaineer standouts
Esa Ahmad scored a career-high 27 points. Throughout the game, the sophomore led the team ad was seemingly always open, knocking down shots.  Jevon Carter lead the team in rebounds (8) and assists (9).
Kansas standouts
Freshman guard Josh Jackson scored 22 points and was perfect from beyond the arch (4-4). This loss was by no means on the shoulders of Jackson. The rest of the team had a pretty sub-par performance. Star of the team, Frank Mason III had a below average day. On the season, Mason averages 20 points, four rebounds, and five assists, per game tonight, he only accounted for 15 points, four rebounds, and two assists. The Mountaineers shut Kansas's star player down without issue.
Moving forward
On Saturday Kansas and Kentucky are facing off against each other.  The Mountaineers will be hosting Texas A&M in the Big 12/SEC Challenge.