Laying the Boston Celtics to Rest
They fought the good fight, but like all living things, the Boston Celtics perished in Washington D.C. Thousands were in attendance at the funeral in the Verizon Center and not a soul shed a tear. The Wizards were prepared for the occasion, dressed in all black. They came prepared to bury the Celtics and that they did, 123-108. However, this new found rivalry started way before tonight. The events a few weeks back influenced all of the theatrics we saw this evening. Setting the stage for must-see TV in Boston coming in March.
The Resurrection of Bradley Beal: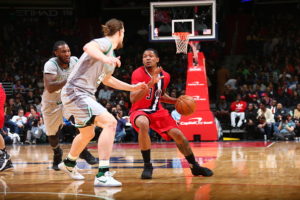 The Wizards made a statement tonight by wearing all black because they actually won the game. Two things were at stake. First, their ongoing winning streak at home. Second, their pride. That being said, Bradley Beal, who's been in a shooting slump, would have to help out his back-court teammate, John Wall. As the Wizards need all the offense they could get. In the last three games, Beal was 14/44 from the field, shooting roughly 31%. Tonight, Beal refocused and knocked down just about everything. His shooting percentage over the last three games doubled plus some as he shot roughly 66%. He was 12 for 18 from the field and chimed in 31 points. Beal is back in this rhythm now and this team can continue to string together some wins as All-Star Break is quickly approaching.
John Wall vs. Isaiah Thomas: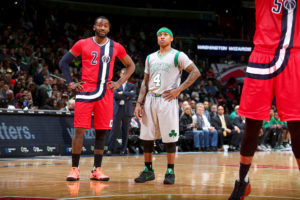 Many debate about the level of competition in today's NBA. However, one thing that can not be disputed is the competitiveness in the guard play.  For this funeral to proceed, John Wall would have to be in "attack mode". That he was. Wall shot 11/20 from the field and had 27 points on the night. Not to mention, he had seven assist and rebounds. Isaiah Thomas led his team in points by finishing with 25 and 13 assists. Thomas did struggle from beyond the arc as he shot 1 for 6 from downtown.
Kelly Oubre, The resurgence of the Bench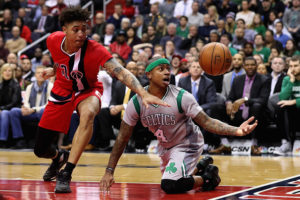 All hands were on deck and even the second unit played their part. Kelly Oubre continues to show why he's a great defender and can be explosive on the offensive end too. In a recent interview with Fox Sports 1340 AM Oubre was asked what else he needed to work on with his game. He replied, "I'm Nice." He was "nice" tonight. Oubre contributed 11pts and shot 4-10 from the field, he was 50% from beyond the arc. His defense helped contain Thomas preventing him from really taking over the game. The bench overall had a total of 24 points which is right around their average.
The Eulogy:
Boston fought the good fight. They came down to Washington and gave it all they had. Brother Wall, Beal, Oubre, Gortat and so many others came to help bury these said Celtics from Boston. Oh! Yes, they will be missed. Don't cry because it's over…smile because it happened. Oh… why Boston… oh not Boston….Brother Wall didn't have to do them like that. No brother Oubre, why you shoot those threes like that tonight. OH WHY!!!  Take me!!! Take me instead of brother Marcus Smart… no not brother Smart! It's alright because the basketball Gods make no mistakes…that being said, March 20th at the TD Garden…shall be a place we all can come together and see this fight one last time..