First Round
On Wednesday the Phillips 66 Big 12 Men's championship, got underway with first round battles between Oklahoma and TCU as well as Texas and Texas Tech. TCU cruised past the Oklahoma Sooners, with an 82-63 victory. A notable performance coming from the Frog's  Vladimir Brodziansky, tallying 20 points, while 10-for-13 from the field. However, he was scoreless with free throws, coming in at zero for three from the stripe.
Texas tipped off against Texas Tech, where the Red Raiders were four and a half point favorites. However, going against the spread, the Longhorns won 61-52. Texas's Andrew Jones was only four for eleven from the field, however, his near flawless free-throw shooting (6-7) helped him lead the Longhorns in points.
Second Round:
Oklahoma State vs Iowa State
The first game of the day is Oklahoma State and Iowa State at 12:30 EST. Iowa State's season has just begun to peak, making it to the top 25 the last two weeks, this team may be peaking at the perfect time. This match-up is expected to be a close game, Oklahoma State is 2 point favorites, ensuring this to be a thrilling match-up.
Kansas vs. TCU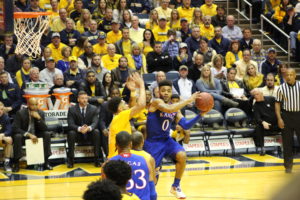 TCU will now go on to face Kansas Thursday at 2:30 EST. Where Kansas is 7 point favorites. There is a key player from the Jayhawks that will be benched for today's match-up. Josh Jackson will serve a one-game suspension, as a result of a February traffic stop that Jackson disclosed earlier this week.  Jackson was cited for three traffic violations on February 2nd, after backing into another car and leaving the scene. Jackson averages 16.4 points, 7.2 rebounds, and 3.1 assists a game. Without Jackson, TCU may have a better chance at beating the number one team in the league.
Texas vs West Virginia
Texas will face West Virginia at 7 pm EST. West Virginia is 12 point favorites however, Texas is 11-7 this season when they are the underdog. Junior Guard Jevon Carter leads the Mountaineers in both points and assists with 12.9 points and 4 assists a game. Carter has made his presence known on the defensive end of the ball, leading the Big 12 in steals per game (3.7) and the Mountaineers as a team lead the NCAA in steals (10.7).
Kansas State vs Baylor
Kansas state and Baylor will also play for the first time today, at 9 pm EST. While the Baylor Bears are five-point favorites, Kansas State has won 7 of the 9 games they were underdogs in this season.  Leading the Bears in points and rebounds is Johnathan Motley with 17.5 points and 10 rebounds a game.