Amidst sexual harassment and racial misconduct charges, Carolina Panthers' owner Jerry Richardson released a statement on Sunday announcing the sale of his franchise after the 2017 season.
In a letter published on the Panthers website, Richardson wrote, "I believe that it is time to turn the franchise over to new ownership. Therefore, I will put the team up for sale at the conclusion of this NFL season."
Since founding the Panthers in 1993, Richardson has managed to receive a collection of mixed reviews from NFL owners and executives, but one of those did not include Dallas Cowboys owner Jerry Jones.
When sharing sentiments of sadness on Richardson's decision, Jones said, "Jerry is one of the really, really, really outstanding men of football that I've ever met, and I really admire him. I know that he made it the old-fashioned way. He worked for it. He took what he made in a short time in pro football and turned it into a great business and then used that to get the Carolina franchise. So he's a great story."



I guess the Jerry's really do stick together huh?
After the season, the Panthers will be the hottest commodity on the market and that may pave the way for a historic change in the National Football League: The return of the Black Panthers?
Now before you think, "what the heck are you talking about, there are white players on the Panthers team."
Yes, that's understood.
But thanks to Sean "Diddy" Combs, better known to the younger generation as "P. Diddy," there could be a possibility that he'll receive a seat in the Panthers' suite that once occupied Jerry RIchardson and his Bojangles cups.
Combs took to social media following the Panthers headlining news.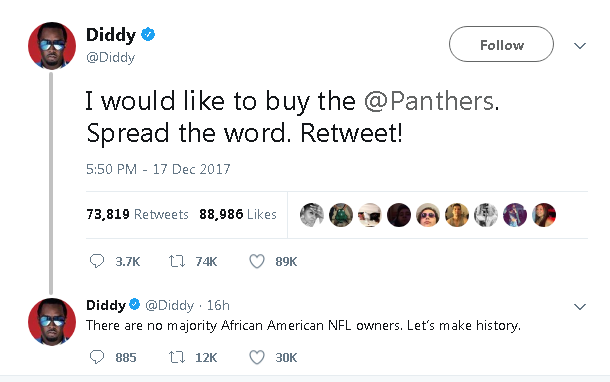 In an effort to campaign for ownership, P. Diddy mentioned that Carolina would have the best halftime music if he was the owner, and endless Ciroc bottle service is always a plus.
Stephen Curry and Colin Kaepernick also wanted in on the ownership.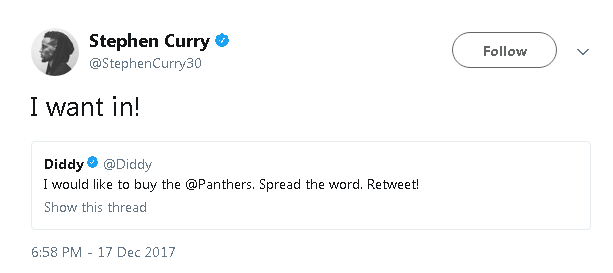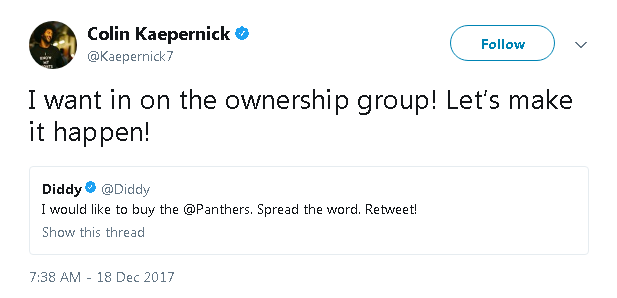 This move could potentially make history in the NFL, and if you ask me, it's about time for a revolution! I'll drink to that!