Introducing the newest member of the Globetrotters, Brianna Green.
The Harlem Globetrotters welcome newcomer Brianna Green into their circle of trust. Green is very excited for the opportunity to be a part of the Globetrotter family.
"This has been a dream come true. At six years old, I wanted to play for them. I used to tell my family that I wanted to be a part of the organization and my dedication has paid off."
Playing for the Globetrotters was her dream, but Brianna had to endure a lot of obstacles before the dream was achieved. Brianna had to endure adversity, injuries, and a lot of opportunities that were dead ends.
"I mean it was difficult for me at times, because I had to endure so much, but I know that things happen for a reason. I learned that certain things  can not be rushed or you will miss out on the lesson of appreciation."Appreciation of the process is something that you can not take away from a person.
Brianna is known to be a person that shoots at a high percentage. When she played for Lexington Catholic, she was known as "Hoops." She could create her own shot off the dribble, could switch hands, if needed to drive to the cup, and she was hitting 45% from the strike. Before she was injured, she scored over 600 points for Lexington.
"I was always known to have "Ice in my Veins." I like to have the ball in my hand to create a high shot selection for my teammates, as well as myself. I can easily get my shot if I wanted to, but this is an area where we have to understand that this a team effort. There is no success without my teammates."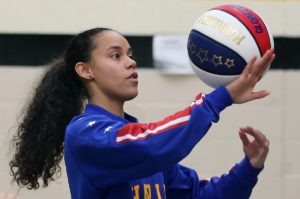 The Harlem Globetrotters are breaking barriers with bringing more females to the sport and letting individuals know that this is something that needs to happen. A lot of females do not get the recognition that they deserve or they have to jump through different hoops to be recognized for their talents.
"I love how the Globetrotters are bringing attention to female ball players. It is refreshing that more females are actually playing for this organization. The traveling is fun.The connections I make and the people I learn about is fun but bringing more females in this industry is very inspiring. I mean taking it step by step, but it is a progressional phase"
With the season underway and a new face to go along with the fan's  favorite organization, Brianna is definitely excited about her future and what she is bringing to the table. "This has been such an amazing journey. I mean for me to follow my dream, despite all these injuries is a blessing. I am thankful for the organization and how I can entertain the fans. I am ready to go out there and show them why I am here."