Christmas Day: Celtics Invades New York
Sunday afternoon after the kids have unwrapped presents and some holiday cheer, the Boston Celtics will travel to Madison Square Garden to take on the New York Knicks after a one-year absence from Christmas day.
What to know about Boston:
After a few injuries to start the year, Boston has recently put together a string of wins. With 50-plus games left, expect this Celtics team to look more aggressive heading into the new year.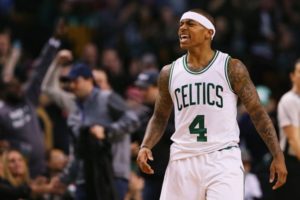 Isaiah Thomas, who's posting career-highs in points (26.6) and threes per game (2.4), will have an interesting matchup with Derrick Rose, Brandon Jennings, and the other Knick guards. The same goes with Al Horford. He's also compiling career-bests, particularly assists (5.3) and blocks per game (2.2), and could cause problems for Kristaps Porzingis and Joakim Noah.
True to their "team play" identity, the Celtics are one of the best passing teams in the league, averaging a third-best 24.6 assists per game.
Adding to the great ability to move the ball is the threat they offer from the outside. Boston is currently 5th in the league in made threes per game. They have scored 10 or more threes in 21 of their 29 games this season.
The Celtics are 3-1 in their last four visits to Madison Square Garden.
What to know about New York:
Not many expected the Knicks to be in the playoff picture this year. Coming off a win over the Orlando Magic, 106-95, the Knicks are currently fifth in the Eastern Conference and are on a two-game winning streak. New York is 16-13 on the season thus far. In the game against the Magic, the bench play was electric. Kyle O'Quinn (14 points, 16 rebounds, and five blocks) had a career night, Brandon Jennings (four points and 12 assists) along with six guys in double figures.
The trio of Carmelo Anthony (22.8 PPG), Rose (16.7 PPG, 4.0 RPG, 4.5 APG), and Porzingis (20.3 PPG, 7.7 RPG, 1.8 BPG) has worked thus far. The Knicks have improved its offense from last year, jumping from 27th to 12th in points (105.3 PPG), and 24th to 13th in offensive rating.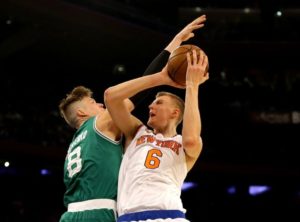 Porzingis, a.k.a "The Unicorn," is second in points and rebounds, and first in blocks among second-year players. Porzingis believes that reaching the post-season is well within their grasps. Talking to a UK paper, Porzingis said:
"That is certainly the goal for us this season [to reach the play-offs]. We have to really try, focus on each game and then go for it,"
Porzingis left the Magic game with a knee injury. Porzingis said he is suffering from "inflammation of the bone and tendon" in his right knee. He told reporters he would be ready to go however after a practice on Saturday.
Prediction:
In early November, the Celtics ran New York out the building beating them by 28 points. I expect this to be a more competitive match-up. However, Horford might be too much for Porzingis and Rose is still not 100%. Boston finds a way to win this one.