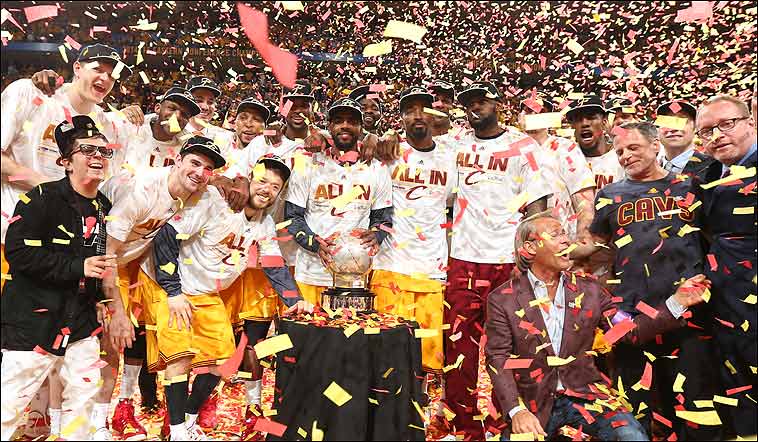 Photo credit by Cavs Nation
Heading into this upcoming season The Cleveland Cavaliers were the favorite's to come out of the Eastern Conference for a good reason. The Cavaliers made history last year in the NBA Finals against the Golden State Warriors when they came back from an impossible deficit being down three to one. The Cavs did the impossible against all odds they came back to bring a championship to the city of Cleveland after a 52 years championship drought.
Photo credit via SB Nation
Striving For Greatness
The Cavs sit on top of the Eastern Conference standings at 28-8 and 20-6 in the conference. As a championship caliber team, the Cavs are constantly on a mission to add pieces to their team to get better every season. However, only if it does not disrupt the overall team chemistry that the Cavs developed over the years. This past week the Cavs and Atlanta Hawks agreed to a deal that will make their team significantly better than before. In addition, the Cavs did not give anybody up in the process to get a deadly sharpshooter in Kyle Korver. In return, the Cavs sent Mike Dunleavy, Mo Williams, and a future 1st-rounder top 10 protected pick to the Hawks in 2016.
Photo credit via Cavs
Sharpshooter
The Cavs picked up a deadly catch and shoot three pointer specialist that is a career 43% from behind on the arc. This is a perfect opportunity for Korver, to take JR Smith spot in the starting lineup until JR Smith makes a full recovery from thumb surgery it is reported that he could miss 12-14 weeks he suffered this injury in December. Korver will have absolutely no pressure playing with three of the elite playmakers in the league such as Kyrie, LeBron, and Love. Korver will average 15 points with his eyes close, however, he could explode for 25 or 30 points on a good night.
Photo credit via Heavy
Luxury
Once JR Smith returns back to the lineup he does not need to rush. The Cavs will have the luxury to make Korver come off the bench if they feel the need to. This year with the Atlanta Hawks in 32 games Korver has averaged 9.5 PPG while shooting .409 from behind the arc. All throughout Korver 13 year career, he has been surrounded by great players however not at this caliber with the Cavs. Keep this mind in late game or game winning situations the Cavs could go super small and have Kyrie, Lebron, Love, Smith, Korver. Their opponents will have to pick their poison in terms of who they will guard. I truly believe with the acquisition of Korver it will push them over the top and they can make a serious case to repeat as NBA Champions.
Follow me on Twitter @Nino_416