LeBron James calls for a new backup point guard
Life is good if you're the Cleveland Cavaliers. You sit at the top of the conference at 27-8, neither the Boston Celtics nor the Toronto Raptors seem to have just enough to show that they can beat you and you're the reigning champions. In fact, in your last showing against the Golden State Warriors, you proved that you still have their number after powering through a 14-point deficit to beat them on your home court. And oh yeah, you just added Kyle Korver – a career 42.9% shooter from three – which means that your offense just got that much more dangerous. That's not even including an eventual return from J.R. Smith.
Still, it's not enough for the King, LeBron James. James has been on record calling for a new point guard to backup Kyrie Irving, saying,
"We gotta get a point guard. It's my last time saying it. We need a point guard."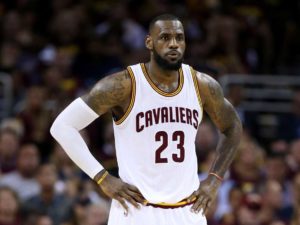 Perhaps some of the frustration is that LeBron is playing a team-high 37.1 minutes per game and some of that is due to him becoming the point guard for the bench unit when Kyrie Irving is resting. James is in his 14th season in the NBA and has logged close to 40,000 minutes in the regular season. The mileage on his body climbs higher once you factor in the playoffs and even his time spent with the United States Men's Olympic Basketball team. James' minutes are without a doubt higher than what he or head coach Tyronn Lue had in mind. Playing both Irving and James a few minutes less and letting the bench have more time would allow for their star players to be more rested as the Cavaliers prepare for their playoff stretch.
Cavs rookie Kay Felder is the other point guard on the roster, so naturally, the minutes should be going to him. However, Felder has struggled in the transition from Oakland University to the National Basketball Association. Not only is he smaller than the vast majority of players standing at five-foot-nine, but he has also been tested in his ability to make plays for others, as he has mostly looked for his own shot whenever he is inserted into games.
Moves Cleveland Can Consider:
Luckily for Cavaliers GM David Griffin, there are plenty of options for him to choose from. Some have suggested maligned Chicago Bulls point guard Rajon Rondo, given his ability to spread the ball around. Rondo does work best with plenty of shooters, which the Cavaliers have in forward Channing Frye, forward Richard Jefferson, and guards DeAndre Liggins, Iman Shumpert and the eventual returning J.R. Smith. This list doesn't include Korver, so on some level, Rondo does make sense.
Rajon Rondo:
However, it seems as though Rondo wants to start somewhere, seeing how he hasn't taken his benching in Chicago all too kindly. In addition, he has had problems in each of his previous stops with either players, coaches or both, so it's improbable in my eyes that LeBron would sign off on adding him to the roster.
Tyus Jones:
Minnesota Timberwolves point guard Tyus Jones makes some sense. Though he is not the biggest or fastest guard and his defense is certainly a work in progress, Jones can run an offense in the right system. Jones has fallen out of the rotation in Minnesota behind Ricky Rubio and rookie Kris Dunn.
D.J. Augustin:
Another potential option is D.J. Augustin of the Orlando Magic. Augustin is best remembered for his run with the Chicago Bulls, where he averaged 14.9 points and 5 assists per game in 61 games. Over his career, Augustin owns a 27.5% assist percentage, meaning his teammates scored on 27.5% of the field goals while he was on the court. For comparison, Kyrie Irving owns a 30.1% assist percentage. Perhaps Kay Felder will fit more on the Magic roster.
Jameer Nelson:
Finally, the Cavs could call the Denver Nuggets about Jameer Nelson. Nelson is a 15-year veteran who shouldn't have any problem fitting in with James and the rest of the Cavaliers. The Nuggets could easily play Jamal Murray more at the point guard position to compensate for the loss of Nelson.
If nothing suffices, the Cavaliers could always make Iman Shumpert the de facto point guard with the bench unit. He did play the position during his rookie year for the New York Knicks and showed off these handles in a win over Brooklyn.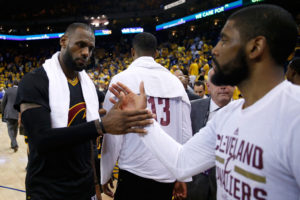 At the end of the day, the Cavaliers are most likely going to add someone, either via trade or free agency. If LeBron James wants something, LeBron James gets it. Look no further than the additions of Kevin Love, Timofey Mozgov, Tristian Thompson's contract or Richard Jefferson returning after he announced his retirement following their championship. It's just a matter of who will be joining the Cavs and how they'll fit on the roster.