College Football: Week Nine Observations
Week nine of the college football season provided plenty of intrigue for the fast-approaching College Football Playoff. An important Big Ten battle may have presented a new face in the pool of CFP possibles. The annual "World's Largest Cocktail Party" resulted in a dominating Georgia win and the Florida Gators waiving goodbye to their head coach. The #17 USC Trojans looked like their dominant in an important road conference game after underwhelming in South Bend last week. Meanwhile, a specific Pac-12 dual-threat quarterback may have introduced himself to the 2018 Heisman race. On to the rest of the observations from week nine.
Cyclones Do It Again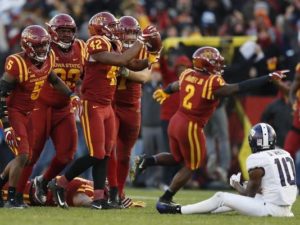 For the second time this season, the #14 Iowa State Cyclones pulled off a top ten upset to fully establish themselves as Big 12 conference title contenders. Their 14-7 win over #10 TCU came at the expense of a tough Cyclone defense that held the Horned Frogs to just 307 total yards on offense and three turnovers. With wins over TCU and Oklahoma, the Cyclones program is on cloud nine at the moment and deservedly so. If they can climb the mountain that is #11 Oklahoma State in a couple of weeks, the College Football Playoff is NOT out of the question.
The Fighting Irish Rolls Along
Facing a motivated North Carolina State team, the #5 Notre Dame Fighting Irish used an opportunity to polish the resume and make a convincing statement. Thanks to 202 rushing yards by running back Josh Adams, the Irish used a dominating second half to put away the Wolfpack and are playing solid ball on both sides of the ball. Entering the season, head coach Brian Kelly was squarely on the hot seat but wins such as this cools things down for Kelly and the Irish are looking like one of the best teams in the country.
Ohio State Pulls The "Upset"
It may not be an upset in the eyes of Buckeyes fans but it was classic at the very least. Ohio State quarterback J.T. Barrett orchestrated a 19-point fourth quarter for the Buckeyes and completed a 16-yard touchdown pass with under two minutes remaining to cap off the big comeback. The Buckeyes needed a win of this magnitude to place themselves back into the CFP talk. It started rough for the Buckeyes with Penn State running back Saquan Barkley taking the opening kickoff the distance for a game-opening touchdown. Winning out for the Buckeyes truly solidifies their place in the CFP and this resume win will stand out on it's own.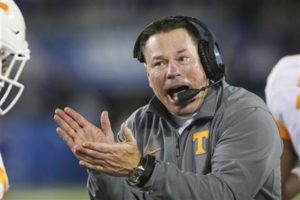 Butch Jones On Thin Ice
Going winless in conference play is never good. Going winless in conference play in the SEC is downright scary. Well, Tennessee head coach Butch Jones is making matters worse for himself. A 29-27 loss to Kentucky this past Saturday leaves the Volunteers at 0-5 in the SEC this year. Behind Jones and his coaching the Volunteers have totaled 26 losses in 59 games coached up to this point. He does have a top-15 recruiting class for 2018 that he probably will use as leverage to hang on to his job. However, wins and losses make that most noise and Jones has fallen flat on his face in that element as of late. It's just a matter of time until Jones is on his way out the door in Knoxville.
Possible 2018 Heisman Candidate 
Out of nowhere, Arizona Wildcats dual-threat quarterback Khalil Tate is establishing himself as a force in college football. In the last four games, Tate has rushed for 840 yards and eight touchdowns. He has also passed for 743 yards and six touchdowns in that same span. Tate came on recently after injuries to former starter Brandon Dawkins and Tate has taken the opportunity and ran with it, literally. Many are not aware of Tate and his abilities but with Louisville's Lamar Jackson winning the legendary Heisman Trophy last season, a player such as Tate is one to keep close tabs on.