You wanted a weird week in college football? You got it in week seven.
A top three team (Clemson) went on the road and not only lost a key conference game but lost their starting quarterback to injury as well. Not to mention that another top ten team (Washington State) losing on Friday night as well to kickstart the weekend that was. One of the top quarterbacks in the country (Baker Mayfield) executed a late comeback against archrival Texas to climb back into the College Football Playoff race while the #8 Miami Hurricanes needed another game-winning drive from their redshirt junior quarterback to remain undefeated. On to the observations from this past week in college football.
Unranked LSU gets the upset
Since their home upset to Troy two games ago, the #24 LSU Tigers now find themselves back on the winning path after beating #21 Auburn 27-23 this past Saturday. A strong second half from their defense and a fourth quarter 75-yard punt return for a touchdown by receiver D.J. Chark was the boost the Tigers needed to pull off the tough win. A road game in Alabama looms for the Tigers but a win such as this is exactly the confidence-boosting victory the team and head coach Ed Orgeron needed.
Buckeyes continue to roll
It has been a little over a month since the Buckeyes suffered an early season home loss to Oklahoma but since then, the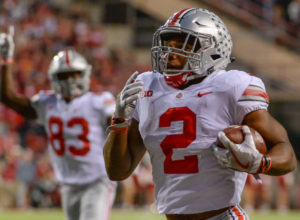 Buckeyes have reeled off the following final scores in the midst of a five-game win streak: 38-7, 54-21, 56-0, 62-14, and 56-14. The final three wins are against Big Ten opponents along with their opening-season win over Indiana as they are 4-0 in the conference. A big test is ahead this Saturday as the #6 Buckeyes have a home contest against #2 Penn State with first place in the Big Ten East on the line. A prime opportunity for Ohio State to firmly plant their flag as the best team in the Big Ten.



The clock is ticking for Butch Jones
The talent level for Tennessee coming into the season was still favorable although they lost a decent number of key starters from last season but sitting at 0-3 in the SEC this season and 3-3 overall has many of the Volunteer fanbase yelling at the top of their lungs wanting a coaching change. Jones has a 58% win percentage while at Tennessee and still have the mighty Alabama in Tuscaloosa and the resurgent LSU Tigers on the schedule. It is a real possibility that Jones does not make the end of the season and at this point, not many can blame a firing of such an underwhelming helm.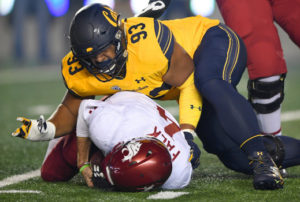 A pair of losses for the state of Washington
Two teams that were in the top ten last week suffered conference road losses as both #12 Washington and #15 Washington State both were completely grounded by Arizona State and California respectively. Both teams combined for 10 points scored and both feature two of the best quarterbacks in the country in Jake Browning and Luke Falk. Pac-12 teams have very little headway when it comes to ugly losses and postseason playoff seeding and these two games will standout on both teams resume if their name appears in the CFB playoff conversation by season's end.
Mayfield's possible Heisman moment
The Red River Shootout is always a hub for close games and hair-raising moments and Oklahoma senior quarterback Baker Mayfield may have had his Heisman moment during the 2017 chapter of the rivalry game against Texas. The Sooners had a 20-0 lead with a little over four minutes left in the first half and saw that incredible lead slowly evaporate. Yet, with under seven minutes remaining, Mayfield connected with tight end Mark Andrews for a 59-yard touchdown on a broken coverage by Texas to give the Sooners the eventual lead. It was one of those moments that will likely be replayed over and over again if Mayfield is at the Heisman Trophy presentation.