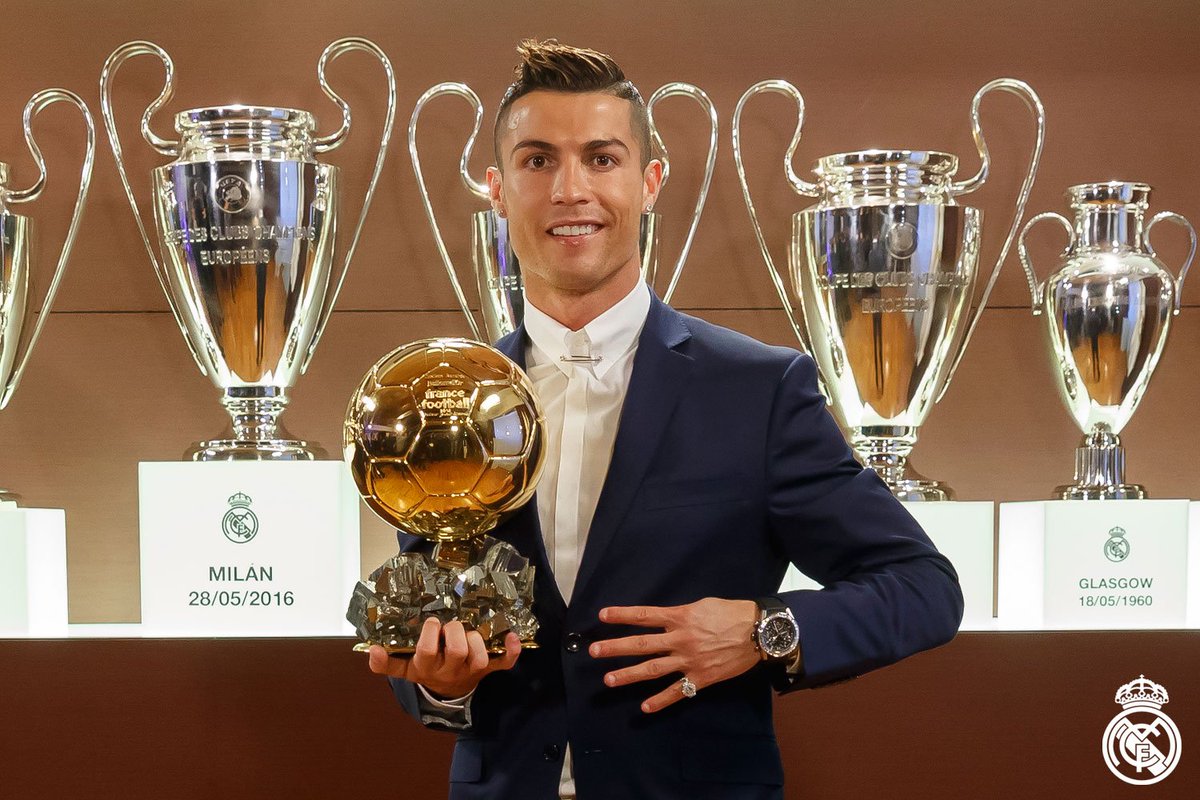 Photo credit via Real Madrid
2016 was the year of Cristiano Ronaldo as he won the Ballon d'Or award for the fourth time. He won his first major international trophy for his country Portugal when they won 2016 Euro Championship. In addition, Real Madrid won yet another UEFA Champions League trophy to give his club eleven Champions League trophies.
Ronaldo is only one Ballon d'Or short of his Barcelona rival Lionel Messi's record of five. You can read this article here and many more on the famous footballer to find out more about him. There are always heated soccer discussions among fans as to which player is better. Ronaldo has now scored 48 goals in 52 games in 2016. This award moves him past former soccer legends such as Marco van Basten, Michel Platini, and the late Johan Cruyff.
Real Madrid defeated Kashima Antlers 4-2 to become FIFA World Cup champs. Ronaldo scored a hat-trick to lead his team to victory. Throughout the first fifteen games played so far, Real Madrid sits on top of the La Liga table with 37 points. Ronaldo is tied for second in scoring in La Liga in Spain with 10 goals only one goal behind Lionel Messi who has 11.
In November, Ronaldo signed a contract extension with Real Madrid to keep him with the club until 2021. Ronaldo became the highest paid player on the club his new salary will be 500,000 a week. Regardless of the critics Ronaldo constantly silences backs it up with his performances over the years the numbers don't lie he is the best player in the world.
Ballon d'Or list:
1 Cristiano Ronaldo
2 Lionel Messi
3 Antoine Griezmann
4 Luis Suárez
5 Neymar
6 Gareth Bale
7 Riyad Mahrez
8 Jamie Vardy
9 Pepe
9 Gianluigi Buffon
11 Pierre-Emerick Aubameyang
12 Rui Patricio
13 Zlatan Ibrahimovic
14 Arturo Vidal
15 Paul Pogba
16 Robert Lewandowski
17 Dimitri Payet
18 Toni Kroos
19 Luka Modric
All the goals stats and the Ballon d'Or list was provided by The Guardian and BBC
Follow me on Twitter @Nino_416