Dallas must stay true to themselves to fend off Washington
This season, the NFL has had its shares of controversies. Some would say that there has been a lack of competitive games which in turn has affected the ratings. However, when the Washington Redskins come down to North Texas to face off against the Dallas Cowboys. You can be sure this will be a high rating, highly anticipated game. This year's rivalry game has so many storylines it's hard to keep track. The most obvious one is, the Cowboys are on a nine-game winning streak and the Redskins they want to do everything they can to ruin the Cowboys' holiday. If you talk to people around the Nation's Capital they would tell you that the Redskins would've won vs Dallas had Kirk Cousins not thrown that interception in the end zone back in week two. Nonetheless, that's always the mindset of the losing team. Washington and Dallas are different teams than they were in week two. Which will now set up a game we will all remember:
Both teams played on Sunday night so  there aren't any advantages. Some may say the advantage could go to the Cowboys because they played a Noon game at home. While Washington played the late night game and has to travel to Arlington, Texas. At the same time, perhaps the advantage could go to the Redskins. Seeing that Dallas played against a top rated defense in the Baltimore Ravens, while they played against a Packers team who's on the wrong side of history. Fans will be sure to find any excuse to make their case for why their team didn't perform.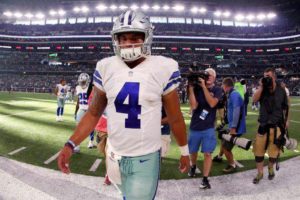 Cowboys are in a prime position to not only make the playoffs but possibly have home field advantage throughout the postseason. Dak Prescott has been near perfect and earned the starting job from Tony Romo. If the Redskins could somehow make him have a very bad game, then that'll definitely change the narrative in Dallas and could potentially set them back. The Redskins winning this game would also be a statement game. Now the question is how can they do it?
Washington must counter everything Dallas is good at. Dallas owns the time of possession in just about every game they've played in this season. Washington must cut into that because the longer Prescott is on the field, the better the chances for Dallas. Also, the running game has been great for Dallas. Ezekiel Elliott hasn't rushed for over 100 yards in the past few games, so containing him and making one dimensional could change the dynamics of the game. Washington on the offensive side has Desean Jackson. Dallas defense is good, but they aren't the best and a team can break them down if their offense gets a chance to.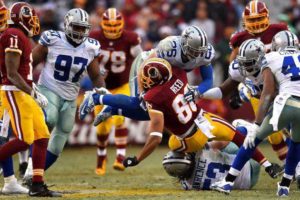 Dallas has shown over the last nine weeks that they are the best team in football and they have a rookie quarterback at the helm leading them along the way. The Cowboys owns the clock which makes it very hard for the opposing team's offense to get a chance to score. Prescott, though a rookie, approaches the game similar to a veteran. He can lead his team down the field with a few minutes to go and not only put his team in scoring position but actually win the game. Yes, Elliott hasn't rushed for more than 100 yards in the last few games but he's much more improved since week two when he got benched. So, if Dallas wants to win this game it is a little easier for them to do so. Why? because all they have to do is stick to what has been working.
As with anything, once you get out of character that is when you are in trouble. The Redskins will be barking and the energy inside of Jerry World will be something we haven't seen in a long time. If the Cowboys stay true to who they are they should have no problem defeating Washington on Thanksgiving Day. Kick-off is at 4:30 ET tomorrow evening as we are in store of a great battle between these two electrifying NFC East teams.