Derrick Rose's old number is coveted in Chicago
Chicago, Illinois—- When Michael Jordan retired from the Chicago Bulls in 1999, the team and their fanbase went through a really dark period until 2008. That year, Englewood's very own, Derrick Rose, would be drafted number one overall to the hometown team. Shortly thereafter, Rose would become the NBA's youngest MVP ever in the 2010-2011 season, obtaining this accomplishment over LeBron James and Dwight Howard, both of whom had amazing seasons. The entire city would get behind Rose. Not only because of the hopes of what the Bulls could be but more so because this was the prodigal son leading the hometown team to greatness.
Subsequently, Rose's fall to multiple injuries meant that he nor the Bulls nor the fanbase would ever be the same. Despite dreams of a championship being dashed. Rose's number one jersey was still synonymous with the organization and the good times they had. In addition, his jersey number was coveted by Chicagoans. He was the epitome of success in Chicago: rising through the street violence and negativity, only to become a shining light of hope.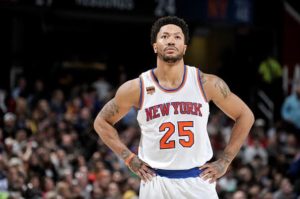 Derrick Rose would tell you he doesn't care about someone else wearing the number one on their back in Chicago. He's put that identity behind him and rightfully so. Rose is a member of the New York Knicks now and he loves the Big Apple. He even mentioned that he might make New York his home after he's done playing basketball. We should be happy that he's happy and moving on his career, wherever basketball may take him. Though his modesty is respected, Mr. Rose may not know that this story is a little bigger than him.
What's the controversy all about:
It all started after Derrick Rose was traded last summer. Only a few months removed from the Derrick Rose trade, the Bulls acquired Michael Carter-Williams from Milwaukee Bucks. Carter-Williams would follow his heart and decide to wear the number one like he had at Syracuse. Bulls' fans displayed their anger by bashing him, which wasn't warranted. He would then decide not to wear that number. Then fans fought amongst fans saying that they were in the wrong for "bullying" the former rookie of the year into changing his number.
Time would go on and this situation would come up again. The Bulls traded Taj Gibson and Doug McDermott in exchange for Cameron Payne, Joffrey Lauvernge, and Anthony Morrow. Morrow, Charlotte, North Carolina native, would pick a number meaning something to him, which happened to be the number one. Again, Bulls fans were livid and Morrow would apologize and decided not to wear that number.
To be very clear, fans are in the wrong for personally attacking these players for picking a number that means something to them as well. Their intentions weren't nefarious by any means, however, the anger should go towards the misguided front office that knows better.
Why the Number 1?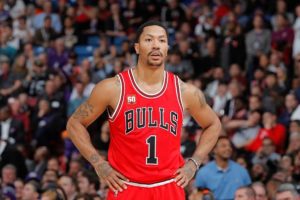 Yes, Derrick Rose may not care who wears number one because being a Chicago Bull is in his past. He has to focus on how to change the losing culture in New York. Perhaps he wants to let go of all of the pressures that came along with playing in his hometown and failing to bring them the one thing he put his body on the line for: an NBA championship. He has the right to live in the present and not walk down memory lane of what was and what could've been.
Sorry to inform you, Pooh, but this is bigger than you. Many people in Chicago wanted to be like Mike during his heyday; however, many more are reminiscent to Derrick. People admired Mike and wanted to be like him based on his basketball abilities. They mimicked him as they shot the ball, sticking their tongue out. On the other hand, people in Chicago are just like Derrick Rose. They live in similar neighborhoods facing the same daily adversities such as poverty and gang violence. People feel connected to Rose because he's one of them, in essence.  
One Chicago:
Rose's path in life showed these people who are so often forgotten and hope is only a four letter word to them that they too can live the "American dream." The dream of being self-made: rising above the obstacles placed in front of you to provide for your family. In Rose's case, the path to being self-made was through basketball. Everyone close to Rose is living that dream, branching out and giving back to Englewood, the neighborhood you only hear about when they are tallying gunshot victims.
That number one jersey is symbolic to Chicagoan for those reasons. His journey is the quintessential Chicago story. That is why Chicagoans gravitate to people like Rose and Chance the Rapper because they represent a part of their city.
Yes, Chicago is vast and many stories are told but not too often are the ones told like Rose's. Not to discredit what Michael Jordan did for the game of basketball and specifically what he's done for the Bulls' organization. However, it's not too outlandish to say that Derrick Rose's impact on the city of Chicago is just as if not even more so significant as Jordan's.
Connecting It All:
We shouldn't expect Rose to understand "the controversy" because sometimes he may not even be aware of his impact to Chicagoans to this day. He sees himself as "Pooh" from Englewood – not this larger than life superstar who can still have thousands pour into the streets in Asia when he goes on his Adidas tour.
Bulls fans, you shouldn't fault Michael Carter-Williams or Anthony Morrow. Neither come from this city, keep up with the Bulls. Unless they were the next opponent or know the significance of the jersey number. However, Gar Foreman and John Paxton do in fact know better. Bulls fans should show their displeasure with the moronic decision of not making it known to new players that this number should be off limits despite it not being retired. This front office continues to take their fan base for granted. They know it's still holding on to the dynasty days of the 1990s.
The Arrogance of the Chicago Bulls:
It's been almost 20 years since the Bulls won a championship. These two still don't have a plan to revitalize the team. They could have avoided this unnecessary drama. Yet, they continue to show their disrespect towards Derrick Rose's legacy by allowing anyone to entertain the thought of wearing the number one. Again, Rose's legacy is larger than what his numbers were and what accolades came with that. A sports team takes on the culture of the city. In this case, Derrick Rose is Chicago, despite what jersey he's wearing this season or henceforth.
This front office should have the decency to respect that and not allow that number to be touched. Then again, this is the same front office that has been rebuilding every year since 1999, save for a few of those years when Rose was at his height of his career. So, perhaps we are foolish to think this front office would do something that makes sense.