Devonté Green creating his own name at IU
Having an older brother in the NBA can come with its perks. However, when you play basketball as well being referred to as the "little brother" can become annoying. Yes, Devonté Green, a freshman guard at Indiana, is the younger brother of NBA Champion, Danny Green of the San Antonio Spurs. Despite sharing the same last name, the two are completely different.  The "Green" last name carries a lot of weight in the world of basketball in New York. Devonté has created his own legacy while playing in high school there. Now, he's looking to continue to separate himself from being known as "Danny Green's little brother" while he's a Hoosier. One person who can tell you how Devonté is more than just Danny's little brother and why we should recognize Devonté as an individual is their father, Daniel Green Sr.
Who is Devonté Green?
Born on Groundhog's Day, February 2nd, 1997, Devonté became the third Green brother to join the bunch. Following in the footsteps of his older brothers, Devonté picked up a basketball. It didn't take long for his father to realize he too, has talent.
"I realized Devonté had what it took at a very early age." His father Daniel Green said. Then he added, "I would say about 8 years old he separated himself from the rest. No I wasn't sure at that age how high (his ceiling was) but his future was bright. He enjoyed the big moments. Taking the last shot. He was considered one of the top kids in the Tri-State Area by the time he reached 10 or 11 years old. He started playing varsity as a 12-year-old something neither his brothers (Danny and Rashad) did."
Being so young and playing varsity at that age is the reason why Devonté finished his basketball career ranked 4th in New York State's history logging  2,663 points. In addition to that, he was a finalist for Mr. New York Basketball by the Basketball Coaching Association of New York.
Devonté also led his high school, LUHI, to the Federation semifinals. These numbers and his upside got the attention of Coach Crean at Indiana. Soon after Devonté would commit to IU and become a Hoosier. He chose Indiana because of the level of competition and the tradition there. While at Indiana, his father hopes Devonté learns a valuable lesson.
"I hope he learns that the finer things in life are worth fighting hard for. Life is a grind and it's not always about us."
IU the New Chapter:
Coming from New York to the Midwest can be a culture shock. Everything is different and moves at a much slower pace. Devonté is fitting in just nicely in Bloomington and is loving his new life. His father is hopeful that Devonté will be successful as a Hoosier. Daniel has already seen the growth in his son as he reflects on the day he went off to school.
"When Devonté had to leave for school it was joy, excitement, and sorrow because you realize they're growing up and you miss your kids, but that is the evolution of it all. I was happy for him. He made a good decision (going to IU) and I know he was more than ready to move to the next phase of his life. You give them big hugs and let them know I am still here for you. No matter how far you go away."
However, the transition isn't always easy in terms of basketball. Devonté went from being the star player at his high school to averaging 11.9 minutes per game so far this season, according to IU Basketball official website. Not much playing time and adjusting to the collegiate level can be a lot for an incoming freshman. However, Daniel feels as though Devonté is in a good spot.
"The process is always frustrating for young freshmen. They leave from where they were stars and come into a situation where their every move is critiqued. So they start second guessing themselves. I always reinforce with Devonté that it is a marathon. Take it slow. Absorb as much as you can. Every player has to pay their dues and earn their right to play. Stay focused on your books and basketball. Only worry about what you can control."
Daniel also mentioned that his son has done a "beautiful job of adjusting in that capacity. He also added that Devonté has matured a lot in such of short time and is most proud of that.
How Devonté and Danny Green Differ?
Though the two play basketball and they're both guards, Devonté's  and Danny Green's game are not the same. Danny is more of a two-way player who is known for knocking down the 3-point shot and being one of the best defenders. Whereas Devonté at many times is more like a point guard who can get everyone involved.
"The difference between Devonté's game and Danny's is, Devonté is more of a creator off the dribble." says their dad, Daniel Green. He went on to say "He can get his shot off anywhere on the floor."
Their father admits that he would like to Devonté to develop more patience and to know when to pick his moments. When he masters this then the sky will be the limit for him.
"Dan is more fundamental. High IQ player. Devonté has a high IQ as well but is more of a risk taker. Which sometimes can get him in trouble."
We've seen this already at Indiana. Devonté isn't afraid to take a three-point shot even when some say that wasn't the best shot. However, getting back on defense and not allowing the defender to score is key. That is where experience comes in.
What Can Devonté bring to Indiana?
We know Devonté can score and he can also get his teammates involved. However, his dad tells us he can do just about anything and IU will see they are getting a great young player in him.
"Devonté is unique as a player. He is driven and motivated to reach the highest level of basketball and isn't afraid of hard work and is coachable. IU can expect a dynamic player that could help contribute to a national championship. As I stated he is exciting and explosive. He can score and lock down defensively. Devonté  can turn the game around on both ends of the floor."
There's a lot of validity is what his father has said. Devonté is already known at IU for his dunking abilities and he's taken a 3-point shot from half court this season as well. It's his defense that will keep him on the court and his coach mentioned that in previous interviews. Many may recall while playing with some of the nation's best during the Jordan Brand Classic Regional game.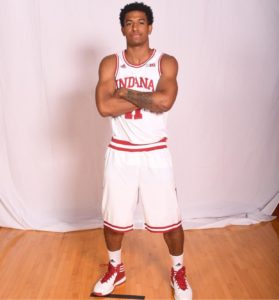 Devonté had nine points, seven rebounds, and had a game-high eight assist not to mention seven steals in a short amount of playing time. It's that hard work and effort that will make Devonté a star at Indiana as he continuing to grow as a player.
Daniel is a proud father when watching his son playing on national TV. Devonté is still learning, however, he has a great support system, the ability to overcome adversity and should flourish on the college level. These are numerous reasons as to why you should get to know him as Devonté "Chef" Greenlight" Green and not "Danny Green's little brother.