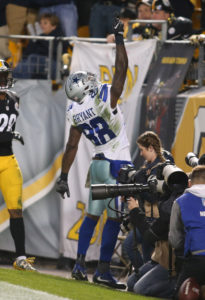 The night before the Pittsburgh Steelers and Dallas Cowboys rivalry game took place, Dez Bryant had a different battle that he was facing. His father, who he was close with; passed away due to an illness. Despite what he was dealing with internally, he went on the field and played his heart out against the Steelers. He was a difference maker in the Cowboys 35-31 victory over the Steelers. He caught a 50- yard touchdown pass that put the Cowboys up by two in the third quarter. He paid tribute to his father by pointing his finger to the sky, as well as blowing kisses to friends and family. He finished the game with  six catches for 116 yards.
After the game, Bryant did not talk to the media, but Cowboys' owner Jerry Jones said a few words for Bryant.
"I'm going to say something that he may not say," said Jones, per The Dallas Morning News. If he would want to be any place in the world after finding out he just lost his daddy, he would want to be around these people in this locker room and their love. He was in the right spot today."
Fellow wideout Cole Beasley: "He was out there balling for his dad."
"We kind of shared this morning about the things I have been through," Cowboys quarterback Dak Prescott told reporters, via DallasCowboys.com. "I kind of let him know this game brings you peace and use it that way. Your father, he is watching you. He's got the best seat in the house, and I told him to go out there and honor him today, and Dez did exactly that.
Playing football is a bigger picture than what people perceive. For players, football is not just their job but their passion and dream. In these moments you see not only football players but family members if they're  not blood come together during a heartfelt time.