Tonight's Elimination Chamber will be a historic night. For the first time, a WWE PPV will feature three woman's matches. As I always do I will provide my overall thoughts and my predictions as well as my colleagues on every match.
Follow each of us on Twitter:
Nektarios Konstantelos: @Nino_416
Andre Melton: @Andre1AMelton
Corey Saunders: @mykicksaremyfix
Micheal Pearman: @mikeknoxxx
Brian Waters: @brianhwaters
Nicolas Wilcox: @nick_wilcox25
Mojo Rawley against Curt Hawkins
This match started as Curt Hawkins bashed Rob Gronkowski on social media for celebrating his Super Bowl Championship. Hawkins stated that he didn't deserve to celebrate because he didn't play. Those that don't know before Rawley was a wrestler he played in the NFL. One of Rawley's friends is Gronkowski. This match is absolutely pointless Rawley should get the win.
Andre Melton Mojo Rawley
Corey Saunders Mojo Rawley
Micheal Pearman Mojo Rawley
Brian Waters Mojo Rawley
Nicolas Wilcox Mojo Rawley
Dolph Ziggler vs. Apollo Crews and Kalisto Handicap match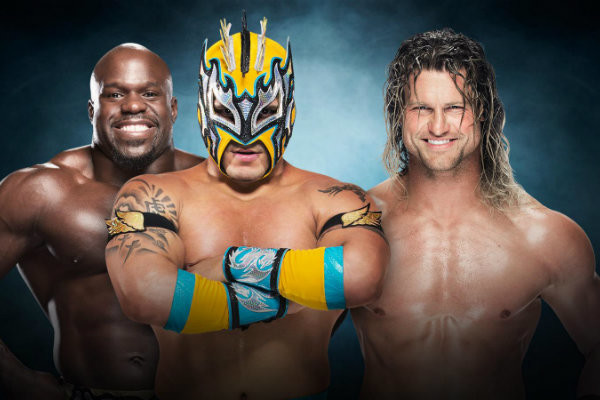 Dolph Ziggler will take on Apollo Crews and Kalisto in a handicap match. This feud started because Ziggler snapped and he took out Kalisto after he lost on SmackDown weeks ago. Then Ziggler changed his attitude and assaulted him weekly with a steel chair. Crews decided to get involved in Ziggler's business. This week on Crews scored a massive upset victory. Daniel Bryan made this match official following the turmoil over several weeks. Ziggler must pick up the win.
Andre Melton Dolph Ziggler
Corey Saunders Dolph Ziggler
Micheal Pearman Dolph Ziggler
Brian Waters  Dolph Ziggler
Nicolas Wilcox Dolph Ziggler

Becky Lynch vs. Mickie James
The five-time WWE Women's Champion Mickie James goes toe to toe with the former SmackDown Women's Champion Becky Lynch.  James is looking for revenge as she feels the current women on SmackDown don't show her enough respect. James was dressed as "La Luchadora," and she cost Lynch multiple matches. She interfered in the first ever Women's steel cage match that cost her an opportunity at the SmackDown Women's Championship. Lynch will be looking for retribution. This match could go either way, but James will find a way to cheat and pick up the win.
Andre Melton Mickie James
Corey Saunders Mickie James
Micheal Pearman Becky Lynch
Brian Waters Becky Lynch
Nicolas Wilcox Becky Lynch
SmackDown Tag Team Championship Turmoil Match
American Alpha was looking for some competition for their SmackDown Tag Team Championship.  They issued an open challenge to any team on the SmackDown roster. As a result, every tag team came out and it was complete chaos. SmackDown General Manager Daniel Bryan had no choice but to make a Tag Team Turmoil match.The outcome of this match is really wide open due to all tag teams. However, I am rolling with the Uso's pulling off the massive upset victory. The Usos will win the SmackDown Tag team Championship and it will result in a great feud.
Andre Melton American Alpha
Corey Saunders The Usos
Micheal Pearman American Alpha
Brian Waters American Alpha
Nicolas Wilcox American Alpha

Nikki Bella vs. Natalya
This has been an excellent feud between these two long time friends now turned enemies. It all started when Nikki Bella was brutally assaulted from behind at Survivor Series. Then weeks after Natalya relieved it was herself all along.These two women have been at each other's throats for months now in fights or as they battled on the mic. Natalya will seek to prove a point and win will go a long way for and she will find a way to win.
Andre Melton Natalya
Micheal Pearman Natalya
Brian Waters Natalya
Nicolas Wilcox Nikki Bella
Luke Harper vs. Randy Orton
For years Luke Harper has been a part of the Wyatt Family since the beginning. However, things have changed when Orton decided to join the Wyatt Family. Weeks prior to the Royal Rumble there was some tension between the two.
Harper has cost Orton multiple matches on SmackDown by accident. Randy Orton is riding high as the 2017 Royal Rumble winner. Luke Harper had a change of hearts when he assisted John Cena to victory.
The former family members will battle each other come this Sunday. Orton will prove why he is more valuable than Luke Harper to the Wyatt Family.
Andre Melton Randy Orton
Corey Saunders Randy Orton
Micheal Pearman Randy Orton
Brian Waters Randy Orton
Nicolas Wilcox Randy Orton
Naomi vs. Alexa Bliss SmackDown Women's Champion
This will be a fantastic match between two of the very best women on the SmackDown roster. Noami has been on a mission ever since her return back to the WWE. She has picked up back to back wins on Alexa Bliss and it seems that she has Bliss's number. It will be another close match up but Bliss will find a way to retain her title via disqualification or will cheat to walk out with the gold.
Andre Melton Naomi via DQ
Corey Saunders Alexa Bliss
Micheal Pearman Alexa Bliss
Brian Waters Alexa Bliss
Nicolas Wilcox Naomi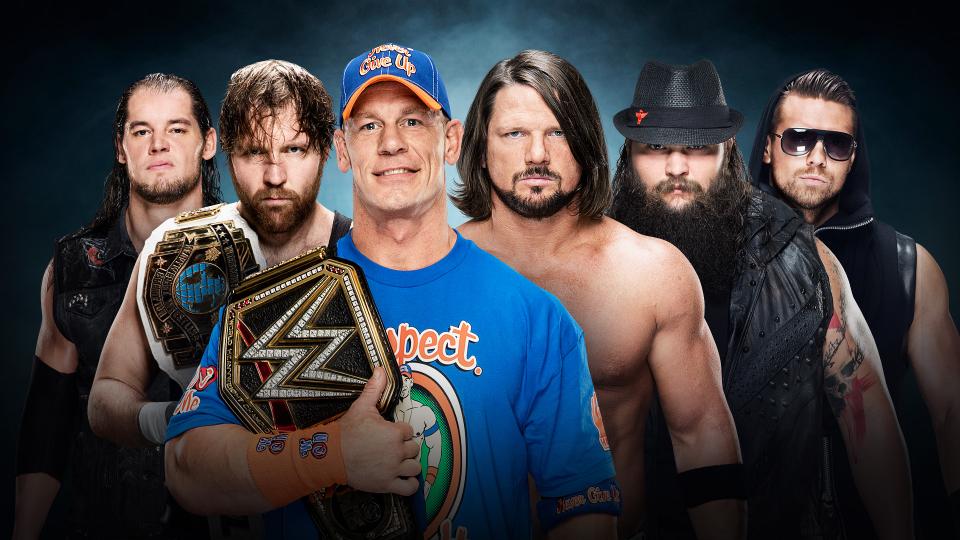 Elimination Chamber match
WWE Championship
AJ Styles, The Miz, Dean Ambrose, Bray Wyatt, Baron Corbin and John Cena
John Cena is riding high as he tied Ric Flair's record for the 16th time World Champion. Cena achieved this feat while defeating AJ Styles at the Royal Rumble. Cena will have no time to rest as he defends his WWE Champion five other combatants that include Styles, The Miz, Dean Ambrose, Bray Wyatt and Baron Corbin.
The infamous Elimination Chamber, with its chain-link walls, glass pods, and steel floors,  and it's a diabolical structure. The rules are simple two wrestlers will start the match while the remaining four are enclosed in pods. After a certain period of time, a pod will open randomly. This will continue until all six competitors have been released. A wrestler can be eliminated at any time, via pinfall or submission. The last man standing will be the WWE Champion.
The Elimination Chamber has a lot of history dating back to the inception. All the participants will put on a show and prove that they belong in the main event. I anticipate the Bray Wyatt winning the WWE Champion.
Andre Melton Bray Wyatt
Corey Saunders Bray Wyatt
Micheal Pearman John Cena
Brian Waters Bray Wyatt
Nicolas Wilcox John Cena