Europa League Round of 32: Are Manchester United The Favorites To Win Europa League?

Photo credit courtesy via UEFA
Europa League
For those that are not familiar will the Europa League tournament I will give you a brief background of the competition. This tournament was founded in 1971 but it was rebranded in 2009. There are 160 teams from all of Europe in total 48 teams in the group stage.
Around the world, with all the different soccer leagues if teams are not in the top four spots in their respected leagues they are eligible to participate in the Europa League. An additional eight teams join this tournament after the are eliminated from the Championship League group stage. The most successful club in tournament history is Sevilla with five Europa League trophies.
Photo credit courtesy via Man Utd
Manchester United
Manchester United is off to play in the round of 32 in the Europa League. They started slowly in the tournament but have recently found their stride as one of the hottest teams in Europe right now. United has played six total games so far they have won four matches and lost two. They are unbeaten in 16 straight Premier league matches. It is no surprise however it took them a couple of months to get comfortable which is natural with all new players.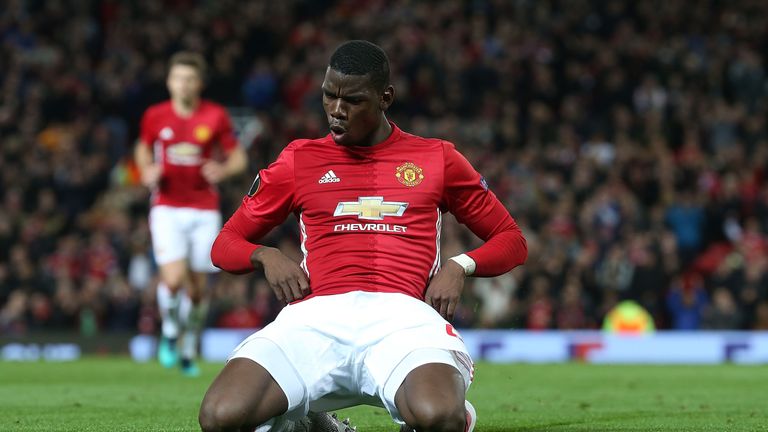 Photo credit courtesy via Sky Sports
Stats
Manchester United have been gaining momentum so far in this tournament here are some stats to back it up. They have scored 12 goals averaging two games per game. As a team, they have 92% passing with 60% possession of the ball.
United has been playing excellent defense in this tournament so far they have only conceded four goals and have three clean sheets which mean they are not getting scored on. They have had a balanced attack of goals Paul Pogba, Zlatan Ibrahimovic, Wayne Rooney, Jesse Lingard all have has two goals, followed by Anthony Martial, Henrikh Mkhitaryan, and Juan Mata all have one goal.
Photo credit courtesy via The FA
Competition
The only competition that could give Manchester United trouble is Tottenham Hotspur. However, with that being said there are still some good clubs remaining in the round of 32. The teams are as followed  Roma, Fiorentina, Ajax, Schalke Athletic Bilbao, Lyon, Olympiacos, PAOK and finally Villarreal.
Photo credit courtesy via UEFA
UEFA Champions League
Manchester United are in desperate need of qualifying for the UEFA Champions League. United need to finish in a top four spot in the Premier League which I believe they will even though it is difficult this year will the race being so tight.
They currently are in the sixth spot in the Premier League with 48pts with only two points behind third and fourth spots. They have missed out on qualifying for the Champions League in two of the three seasons since legendary boss Sir Alex Ferguson retired after their 2012-2013 title triumph. However if Manchester United were to win this competition they would book their ticket to the UEFA Champions League.
Conclusion
Manchester United have never won a Europa League Champion in their rich history but records are always meant to broken. United are the favorites at 7/2 and rightly so because of all their world class players they have compared to the remaining teams. Tottenham Hotspur is the second favorites at 7/1 odds. Therefore I envision that Manchester United will lift the trophy come to the UEFA Europa League Finals.
Follow me on Twitter @Nino_416
All the stats were provided by UEFA Europa League