Extra Extra: Baltimore Orioles Defeat A's, 8-7
The Baltimore Orioles looked to get back into the win column after Tuesday night's 6-4 loss. Dylan Bundy would take the ball for Baltimore, in his first start since August 12 against the Oakland Athletics.
BALTIMORE, Md. — Bundy pitched very well for the majority of his outing. He wouldn't give up a run until the seventh inning. He ultimately would go six innings, giving up three runs (three earned) on seven hits; striking out eight batters.
Orioles manager Buck Showalter spoke about Bundy's rest and what it meant to how well he pitched after the game.
"I'll tell you, some people go in the other direction," Showalter stated. "I'm really hoping and thinking with Wade [Miley] yesterday, that our guys respond pretty well to it. And I'm hoping that's going to be the case now because we've got some people pitching now on extra rest. I just don't think that they get that much out of whack when they pitched the end of July. You know?
It's something earlier in the season you don't like, but I get to see all of the work Dylan [Bundy] does during appearances. He's a guy that was in a pretty good groove today, for a guy who hasn't pitched in about nine or ten days. But you've gotta be willing to do the work in-between to be ready. I don't think Dylan is the type of guy who puts too much pressure on himself, when he's not pitching as frequently as he was, but I'm pretty proud of him today. That was pretty impressive in a time of need, I wish we could've got him a W out of it."
Baltimore was able to grab four runs in the fourth inning. The first three runs came off of a Trey Mancini three-run homer (22). Jonathan Schoop and Adam Jones were able to score. Ryan Flaherty made an appearance in the same inning, hitting a single to center field to score Mark Trumbo. Baltimore had a 4-0 lead. It wouldn't be so easy for Baltimore to win this game, however.
The A's would score in the sixth double from Marcus Semien, which scored Boog Powell. Baltimore answered in the bottom of the inning with a run a two-run home run (14) from Welington Castillo. Mancini scored. The Orioles would hold a 6-1 lead.
In the top of the seventh, Oakland began to take chunks out of Baltimore's lead. Matt Olson singled to score Chris Davis, moving Ryon Healy to third base. Bruce Maxwell would also single, driving in Healy. The score was 6-3.
In the top of the eighth inning, Matt Joyce (19) homered off of Mychal Givens, scoring Semien as well. The Orioles answered with a Chris Davis home run, putting Baltimore's lead at 7-5.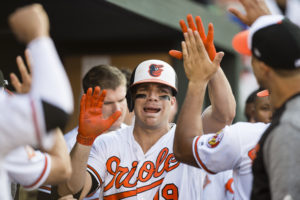 Baltimore would see Zach Britton enter the game in the ninth inning, but the game was not over for the A's. Oakland battled back with a single from Semien to score Jed Lowrie, advancing Powell to third base. Joyce hit a sac fly to score Powell, tying the ball game at 7-7.
Miguel Castro would come into the game after Britton's blown save. He looked dominant in another outing, going 3.2 innings; just allowing two hits and striking out three, while walking one.
There wouldn't be another run until the bottom of the 12th inning. Manny Machado would lead off the inning and he would homer, his 28th of the season. Baltimore topped Oakland 8-7.
"We got that win," Machado said after the victory. "It was tough today, they came back and gave us a hell of a game. So every time we come back like that and win a ball game, it's going to help us next series."
GAME NOTES:
Davis hit his 124th home run at Oriole Park at Camden Yards in Wednesday's game. He tied former Orioles first baseman Rafael Palmeiro for second on Baltimore's all-time list. Jones is the leader for Baltimore with 135 homers.
Britton blew his first save since September 20, 2015. His 60 straight converted save opportunities were an AL record. Showalter would clarify after the game that Britton's knee was a bit banged up. He will be receiving an MRI soon and it is something that has been bothering him since the 2014 season.
"I've probably had it since like 2014," Britton said of his knee. "I got my cleats stuck one time in Toronto on their turf and it was something that was kind of bothering me. I mean, I think I pitched through it the last three or for years. So you just want go in just to get it checked out. Dr. Jacobs wanted me to; I was kind of pushing it off. He said 'let's just look at it' and I'll be going to Boston. It's not something that is gonna prevent me from going with the team.
He just wants to see where its at. If there's anything that needs to get cleaned up maybe, they'll use this time that we're at to do that. But I won't know. I don't think it's anything serious, otherwise I wouldn't be able to pitch I think. But I'm going to go do that tomorrow and we'll find out.
Rajai Davis was the final man on the bench for the A's, but news broke during the middle of the game that he would be traded to the Boston Red Sox.
(Photo Credit: Patrick McDermott/USA TODAY Sports)