The Ferrari Player Rankings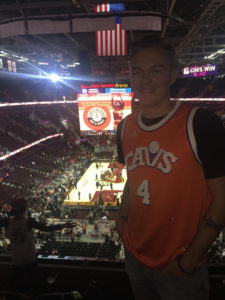 Hunter Gibson Ferrari is a senior at West Virginia University, graduating this May. Ferrari is from Nitro, West Virginia. He played four years of varsity basketball at Nitro High School. Aside from that, he's been playing basketball since kindergarten. Ferrari started creating a ranking of the best NBA players of all time. When asked why he decided to make this list, he responded: "to have a metric with no bias behind it, it cannot be influenced in any way other than how the players play". Ferrari often uses ESPN's rankings to compare his data, and there are big differences in where players lie.
What sets this list apart?
So why make this list? I mean, aren't there dozens, if not hundreds of "all-time best players" rankings? Yes, there are, so what makes the Ferrari Player Rankings (FPR) different?
Those preexisting lists are good and accurate, but there is one problem. The other lists tend to compensate, for time not on the court. Ferrari used Magic Johnson as an example, who is undoubtedly one of the best to ever play the game. So why does Ferrari have him ranked 13? I mean doesn't Magic deserve to be in the top 10, after all on ESPN's rankings he is number 4. Ferrari responded with this "if he didn't sit out for the four seasons while dealing with HIV, those 4 seasons were in his prime. He may be ranked higher. That's an example of where I think ESPN is compensating for what Could have happened".
Ferrari, only uses what is done on the court to rank players, so in Magic's case, he was unable to use those 4 seasons where he was dealing with HIV, because there was nothing being done on the court, no stats were being put up. During those four seasons, Johnson could have had a career ending injuries, he could have, for some reason, just stopped producing the numbers he had previously, which would impact his ranking on major lists, like that of ESPN.  This is just one example of how the Ferrari Player Rankings are different from others.
Another reason the Ferrari Player Rankings are different is because it ONLY used what is done in the NBA, "not counting ABA, not counting what players did when/if they played elsewhere". In the case of Julius Erving, he is ranked 14 on ESPN, but the FPR has him ranked 36, EPSN considers the work he had done overseas, which creates a higher ranking.
How is the ranking determined?
The process by which Ferrari made this list, is quite interesting. Ferrari has a list of 27 different categories, that are all ranked 1-10 by means of importance. For example, MVP is worth 10 points, and Rookie First-teamer is given 6 points. The only outlier is a Hall Of Fame induction because that can only happen one time in a career, it is assigned a value of 25 points.  Once the 27 categories are given a 1-10 value, all values are added up and the higher the sum, the higher ranked the player is.
"what ranking surprised you the most?"
Allen Iverson's rank in the FPR came as the biggest shock to Ferrari. Iverson is ranked 25 on the FPR however, is 46 on ESPN. When asked why Ferrari thinks this is, he answered "I think for his lack of championships, and his character. The NBA always kind of had a problem with AI, the fans seem to appreciate him but I think sometimes the media and things like that, don't"
How does FPR compare to ESPN?
In the FPR top 10, Nine of them are on also on the ESPN top 10. However, only 4 of them are exact matches. Michael Jordan (1), Kareem Abdul-Jabbar (2), Wilt Chamberlain (5), and Bill Russel (7). Although, in the FPR top 50, only 39 of them are in ESPN's Top 50, the average difference in the top 50 rankings is 6.8 spots as calculated by Ferrari.
In the top 50 there are 5 players still active and 10 players still eligible to receive points (Hall Of Fame eligible) on the FPR. So, there is a lot of movement still to be done, Ferrari's personal estimates for the next 5 years, are as follows
| | | |
| --- | --- | --- |
| Player | Current FPR | Projected after 5 years |
| LeBron James | 6 | 3 |
| Klay Thompson | 209 | 95 |
| Russel Westbrook | 98 | 40 |
| Kevin Durant | 51 | 22 |
| James Harden | 132 | 49 |
So, as you can see, three of these players, are projected into the top 50. And all of them are supposed to be in the top 100, however, two of them are significantly far away right now. Thompson himself is 109 spots from the hundredth spot.
Meet the Maker
Ferrari is an avid Cleveland Cavaliers fan, and like most other Cav's fans, he is a lover of king James. Ferrari gave, his early prediction for the championship game, his guess? Cavs beat the Spurs 4-3 in the series