We have hit the NASCAR mid-season point of the year. A lot of questions are out there surrounding drivers and organizations while others surround the future of NASCAR. Let's search for the answers to some of these questions.
Turn 1
Joe Gibbs Racing Still Winless
This was talked about after the quarter mark was hit earlier in the year. The Joe Gibbs Racing stable hadn't won a race in the first nine contests. We have now hit the midway point in the season and the results are still the same.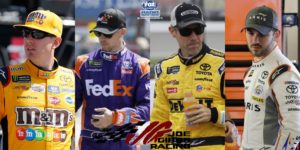 It is very concerning to see this foursome not in Victory Lnae this far into the Monster Energy NASCAR Season. Since 2008, the famed racing organization had a win by the ninth race of the season. In fact, the last time JGR has gone this far into a season without an appearance in Victory Lane was back in 1997. That year Bobby Labonte took the Checkered Flag at Atlanta Motor Speedway, the last race of the season.
As of right now, Kyle Busch, Denny Hamlin, and Matt Kenseth would be in the Playoffs if the season started today. Their breathing room isn't so open with how the season has unfolded so far. There have been 10 different drivers that have visited Victory Lane in 2017.
With only six spots available for the playoffs and eight races remaining before the post-season starts, anything can happen. A win guarantees them a spot, but with how the season has started, they may have to try and make it on points alone.
Turn 2
Joe Gibbs Racing/Matt Kenseth's Future
Before the 18th race of the season started last weekend, Matt Kenseth had some strong words regarding his future with JGR. Kenseth told reporters "I don't think I will have the option to race for JGR next year." The news shook the NASCAR world a little bit.
Kenseth is a two-time Monster Energy NASCAR Cup Champion. In his five year tenure so far with JGR, the 20-year veteran has 14 wins. Those wins came in chunks though. Seven victories were had in 2013 while another five were captured in 2015. Over the past 60 races for Kenseth, he only has collected two wins and 11 Top-5s.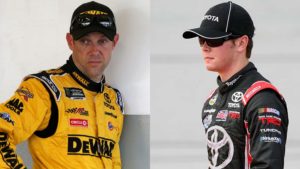 The change for JGR may be because of youth. Erik Jones, the young phenom who has been with JGR for a handful of years in their Xfinity Program, is showing a lot of promise. In 2017, JGR allowed Jones to race for Furniture Row Racing on a one-year loan. So far this season Jones has collected one Top-5 and five Top-10s. He is currently just two spots out from qualifying for NASCARS Playoff as well. All signs are pointing at Jones to take over Kenseth's ride.
With his resume and competitive nature, Kenseth will get a shot in another car immediately. There are many cars that will be open in 2018 like the 88 after Dale Earnhardt Jr. retires this season. If Jones moves from the 77 5-Hour Energy Toyota, that ride will be open as well. Some are speculating that Stewart-Haas Racing may let go of Danica Patrick after this season. That would open up the number 10 Ford too. Kenseth will have many options to choose from in 2018.
Turn 3
New Manufacturer for NASCAR?
Brad Keselowski let the world know last week at Kentucky Speedway that adding a new manufacturer to the stable of cars already in place in NASCAR is a necessity. Keselowski said "Adding another manufacturer is the most important thing we could do to this sport."
As it stands now, NASCAR has three car manufacturers in it's sport, Chevrolet, Ford, and Toyota. The last season that there were four manufactures was in 2012. Ironically, Brad Keselowski was in that fourth make which was Dodge. That season, Keselowski totaled five wins and captured his lone Monster Energy Cup Championship.
Is the eight-year veteran on to something? In December of 2016, NASCAR Vice Chairman, Jim France, met with Fiat Chrysler Automobiles CEO, Sergio Marchionne. Although nothing came out of those talks, and that was the last reported meeting between the two sides, Keselwoski could be garnering some steam to push NASCAR over the hump.
Adding a new manufacturer will balance the sport while also adding more competitiveness. Of the 11 major Racing Orginizations, the breakdown of manufacturers used looks like this: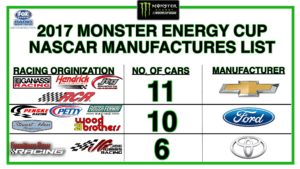 Could a new make pull a championship team from their current manufacturer to a new one? It happened in 2013 with Penskee Racing and could happen again soon.
Turn 4
Is Martin Truex Jr. the Favorite to Win the Monster Energy NASCAR Championship?
Martin Turex Jr. has put NASCAR and his competitors on notice in 2017. So far through 18 races, Truex Jr. has three wins, six Top-5s, and 12 Top-10s. The 12-year verteran has been competitive at every single race, and is the favorite week in and week out to win said race.
NASCAR introduced stage racing in 2017. In short, each contest will be broken up into three or four stages depending on the length of the race. Finishers 1-10 in stages one and two receive bonus points for the regular season, and the stage winner receives one bonus point for the post season.
Truex Jr. has torn through this new style of racing. Out of the possible 37 stages where bonus points are awarded, Truex has won 15 of them, while placing in a total of 25 stages. He is the only driver to win all the stages and the race. This happened twice so far, once at Las Vegas and another at Kentucky.
A reason some say he may not be the favorite to win it all is because of his "lack" of success outside of 1.5 mile tracks. Below are his numbers at all types of track in 2017.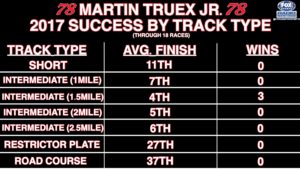 What is beneficial for Truex Jr. when the postseason rolls around is the fact that five of the ten races in the Playoffs are 1.5 mile tracks. It's going to be tough to beat the 78 Furniture Row Team.