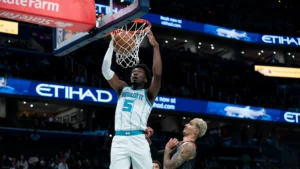 WASHINGTON, DC -November 10: Charlotte Hornets center Mark Williams (5) dunks in front of the Washington Wizards forward Kyle Kuzma, right, during the first half of an NBA In-Season Tournament game (AP Photo/Stephanie Scarbrough)
By Wole Akinso
(@Wole_USS)
Washington, DC— In a game that the Washington Wizards had control of, they found a way to squander a 16-point lead, falling to the Charlotte Hornets 124-117 in the NBA In-Season Tournament.
The Wizards started the game on a 10-0 run ignited by point guard Tyus Jones, who ended the first quarter scoring eight points.  The team's ball movement was crisp and players were cutting to the basket.  Wizards guard Jordan Poole was getting his teammates involved and played a mature brand of basketball. Poole finished the game with 14 points and six assists.  Wizards coach Wes Unseld Jr. spoke about Poole's performance and basketball maturity after the game.
"He is trying to play the right way.  He's making the right reads.  He's moving the ball.  He's trying to make team plays."
The Wizards had a 48-32 lead in the second quarter and all was right with Wizards nation.  However, the Hornets had other ideas.  Hornets center Mark Williams kept the Hornets in the game grabbing 10 rebounds and scoring 12 points in the first half.  He helped the Hornets cut the Wizards lead to a 63-57 score at halftime.
"Those extra chances, those extra possessions turned out to be critical," Williams said.
Williams finished the game with 21 points and 24 rebounds.  Williams did enough for teammates Gordon Hayward and LaMelo Ball to take over the game in the fourth quarter.  Ball and Hayward combined for 24 points in the quarter (Ball 13 points and Hayward 11).  The Wizards had a 109-99 lead with 7:23 remaining in the fourth quarter.   Ball made three big three-pointers kindling an 11-0 run for the Hornet.  His third three-pointer gave the Hornets their first lead of the game (110-109), essentially ending the hopes for the Wizards. At that moment, the Hornets had all of the momentum and the Wizards were playing on their heels.
This was a crushing loss for the Wizards. Wizards forward Kyle Kuzma had 15 points.  He spoke about his frustration after giving up a big lead to the Hornets.
"I mean it's incredibly disappointing honestly.  You know, I think this is the game that we needed. I thought it was a must-win game."
The Wizards are 0-2 in the East Group B bracket of the NBA In-Season Tournament. Their next tournament game is next Friday against the Portland Trailblazers.
Sunday, the Wizards travel Brooklyn to take on the Brooklyn Nets (4-5).  The Wizards will need to forget about Friday night's loss.