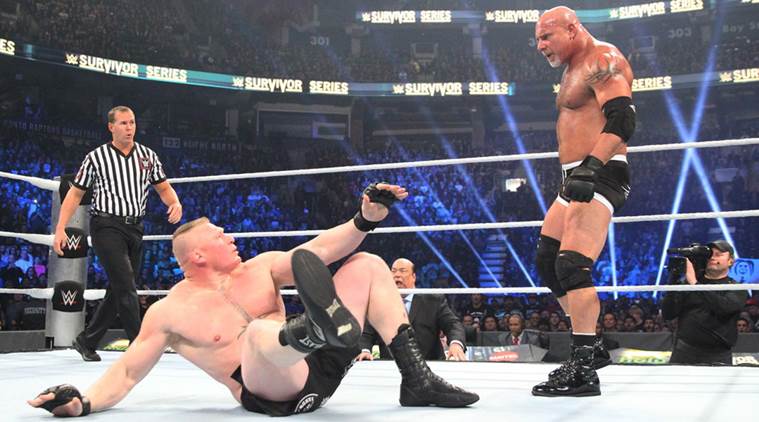 Photo credit via WWE
In the late 1990's WCW went head-to-head with the WWF at the time in what was considered by many wrestling fans as the golden age of professional wrestling "The Monday Night Wars". World Championship Wrestling had many former WWE superstars which they heavily relayed on such as Hulk Hogan, Macho Man Randy Savage, The Outsiders Scott Hall and Kevin Nash and Ric Flair just to name a few. Another critical part of WCW overall success was the Cruiserweight division. It was revolutionary for its time and no promotion could match that action at the time.
In addition, the promotion utilized Sting and Goldberg to compete with the nWo storylines that dominated the 90's and their company. Wrestling fans could debate all they want, but, you can make a strong case that Goldberg was the face of WCW. Interesting enough, Goldberg did not grow up watching wrestling, he played a couple of years in the NFL as a defense tackle for the Atlanta Falcons.
He made the transition from football to wrestling quite simultaneously. WCW booked Goldberg as an unstoppable force. He would destroy anybody in his way with his first victim Hugh Morrus in 1997 episode of Monday Nitro. The matches were usually over in under two minutes. At the time Goldberg's undefeated streak was historic because no wrestling fans had ever since that dominance before.
One of the first monumental matches in the streak was when Goldberg challenged Raven for the United States Championship. Even with all the interference from Raven's faction, the Flock, Goldberg managed to overcome all the obstacles and became the United States Champion. This was a massive moment for his career and it was his first major championship.
WCW did a fantastic job building the Goldberg character the company thought of a genius idea and have Goldberg go face Hollywood Hulk Hogan for the WCW Heavyweight Championship on Nitro. It was only fitting that the match took place in a familiar setting for Goldberg inside a sold-out Georgia Dome. The only issue that I had was this special attraction match should have been saved for a pay-per-view setting. Eric Bischoff was way too focused on TV ratings to beat RAW weekly on Monday nights. That night a star was officially born in Goldberg it was a special moment for him and the promotion.
Goldberg's legendary undefeated streak would end at 173-0 at Starrcade 1998 against Kevin Nash. It was a great match but the finish was awful and killed Goldberg's overall momentum. Nash was in trouble and therefore Scott Hall came down to the ring as a security guard and used his taser on Goldberg.
In 2003, Goldberg shocked the world when he appeared in the WWE. To many WWE fans, they viewed Goldberg's run in 2003 as a massive failure. The only highlights of Goldberg brief run were when he had feuds with The Rock, Chris Jericho and Triple H. Goldberg reached the top of the mountain once again in when he defeated Triple H for the WWE World Heavyweight Championship at the Unforgiven pay-pay-view.
Fast forward to October 2016 when Brock Lesnar graced the cover of the latest WWE video game, WWE 2k17. However, when fans pre-ordered the game they would receive Goldberg as a playable character. Goldberg appeared on numerous media outlooks where he promoted the video game. In addition, he stated that he would love another opportunity against Lesnar. Paul Heyman issued an open challenge against Goldberg to give Lesnar the opportunity to even up the series at 1-1.
The loss at WrestleMania XX in 2004 had haunted Lesnar. The WWE built up this feud so hard in the beginning as expected, the two would finally have a face-to-face confrontation on RAW which finally lead up to their massive match at Survivor Series pay-per- view.
At Survivor Series Goldberg made quick work of Lesnar as he defeated him after he connected with two consecutive spears and a Jackhammer, the match ended in a minute and twenty-four seconds! It was a shocking moment as I experienced this live.  On the other hand, Lesnar taking the loss was pointless and his unstoppable streak of dominance for the past four years meant absolutely nothing.
The following night on RAW Goldberg announced that he will participate in the Royal Rumble match this year. It will be intriguing how this feud pans out and will Goldberg have gold around his waist in the new year. One aspect that is guaranteed is Goldberg rewriting his own legacy to go out the right way with a bang.
Follow Nino on Twitter @Nino_416