On Friday night, Ring of Honor presented their 15th-anniversary pay-per-view and it delivered on all levels. It was a night to remember here are my overall thoughts in addition to the results as well.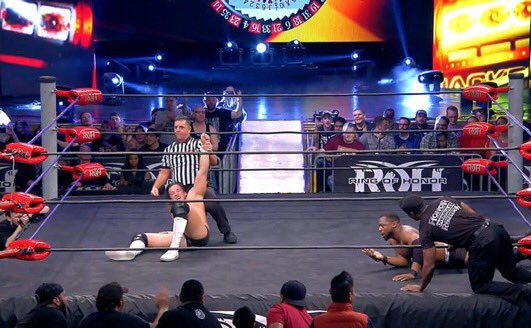 Kenny King vs. Jay White
These two high flyers opened up the show. Both men struggled to gain control of the match. White connected with a slam and a headbutt. He did this to pay tribute to Tomoaki Honma, who suffered a spinal injury in a recent New Japan Pro Wrestling.
White attempted to connect a suicide dive, Coleman shoved King out of the way and White took the dive instead. White hit a Flatliner and then a German Suplex. However, the tables were turned when Kenny hit with a Spine buster on White. King attempted to go for a move but White countered it with a roll up pin for the win.
Hangman Page vs. Frankie Kazarian vs. Chris Sabin vs. Silas Young vs. Cheeseburger vs. Damian Martinez
The match had a lot of moments that the crowd was into during the match. Cheeseburger did a dive onto multiple wrestlers. This was followed by Martinez as he showed off his agility with a springboard flip onto the group on the floor. Martinez had an insane moment when he gave Page a ChokeSlam onto the ring apron.
Silas Young connected with Misery which is like a TKO and diamond cutter on Sabin he attempted to go for the cover but Cheeseburger broke it up. The finishing sequence had Kazarian gave Cheeseburger the Ace of Spade's cutter and he got the win.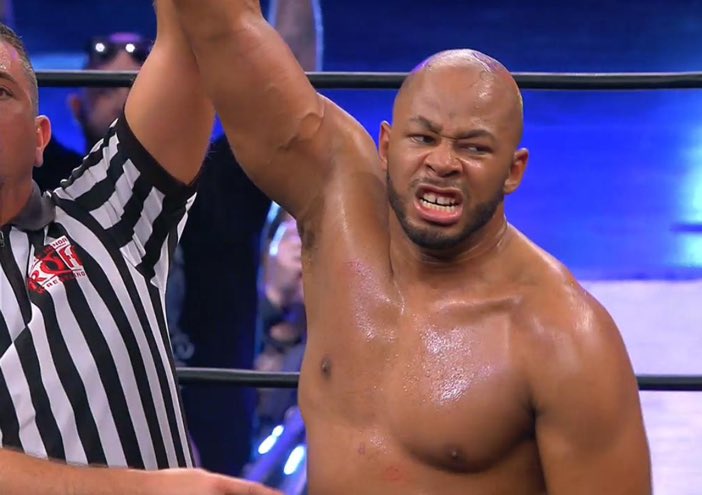 Jay Lethal vs. Bobby Fish
Jay Lethal and Bobby Fish were out to prove which wrestler was better. This match went back and forth early on as both men struggled to gain momentum. Fish had Lethal in trouble as he applied an ankle lock on a Lethal, he was able to reach the ropes and he broke the hold.
Lethal attempted to hit Hail to the King elbow drop, but Fish countered into a heel hook once again. Lethal was on the verge of tapping out but he did not.Then Lethal went up to the top rope but this time he connected with an elbow drop.
He delivered a combination of kicks and then Lethal connected with a cutter to Fish. Lethal went for Lethal Injection, but Fish blocked it. Fish fell victim to Lethal Injection and he got the win. As a result, Jay Lethal will receive a title shot at ROH TV or World Title.
Photo credit via

Vinny Marseglia on Twitter @INKsanityVM
ROH Six-Man Tag Titles
Matt Taven, TK O'Ryan, and Vinny Marseglia vs. Dalton Castle and The Boyz
Early in the match, Marseglia picked up one of the Boys at ringside and he slammed him into the ropes from the floor it was a decent match as expected. The turning point of the match was when O'Ryan pulled off a moonsault onto one of the Boys and Marseglia. In the process, he hit his legs off the guardrail and it looked nasty. Therefore Taven and Marseglia ended the match quickly with a Rockstar Supernova Powerbomb on one of the Boys for the win.
Photo credit via Twitter @MartyScurll
ROH TV Title
Lio Rush vs. Marty Scurll
The crowd was split for both men. It was a tale of two styles Rush has his lighting speed moves and his high flying moves. On the other hand, Scurll was cerebral with moves and his submission holds.
Scurll was ready he put his knees up to counter it which was followed up with a Piledriver. Scurll wanted to hit Rush with the tombstone they countered each other back rotated with multiple times in tombstone position. Rush hit the Rush Hour on Scurll for a near fall.
Rush had planned to set up some chairs on the floor and then placed Scurll on the top rope. Scurll did his best to avoid the Tower of London as he bit his fingers. He elbowed Rush in the face a couple times, and then Scurll finished him off with Crossface Chicken Wing Submission to retain his ROH TV Championship.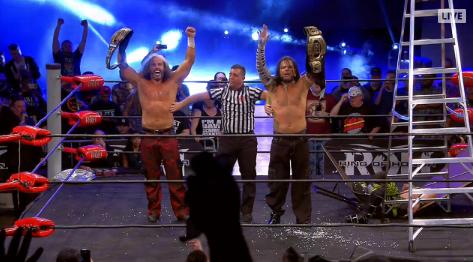 ROH Tag Titles
The Young Bucks vs. Matt Hardy and Jeff Hardy vs. Rocky Romero and Trent Barreta in a Las Vegas Street Fight
This match stole the show for a very good reason when you have three of the best tag teams in the world. This Las Vegas street fight had everything that fans would expect tables, ladders, and chairs. Nick Jackson connected with an insane dive from the ring off of a ladder onto everybody else on the floor. Matt Jackson placed a trash can over Baretta, then Nick connected with a 450 Splash.
The Bucks took out Matt Hardy with a Superkick. This was followed by an attempt for More Bang For Your Buck on Romero, but he put his knees up. Jeff went for a Swanton Bomb, but Matt Jackson put his knees up.
Rocky Romero was very innovated as he had a plastic bag inside the ring and he pulled out a sleeve covered in thumbtacks. Romero delivered multiple clotheslines to every opponent. Then the Bucks slammed Romero face first onto the thumbtacks.
Matt Jackson put a handful of tacks in the mouth of Barreta. Then The Young Bucks hit a Superkick on Barretta which looked deadly with a tacks in his mouth. The Bucks connected the Meltzer Driver on Romero onto the tacks. The Bucks and Hardys final battled each other the Hardys hit Twists of Fate onto the tacks. The Hardys set up a table and a big ladder in the ring. The Hardys placed Barreta on the table. Jeff climbed up the ladder and he connected with a Swanton Bomb to win and they retained their ROH Tag Team Titles.

Photo credit Cary Silkin on Twitter @rohcary
ROH World Champion
Christopher Daniels vs. Adam Cole
The main event was done flawlessly as both Daniels and Cole told an incredible story. They build up the fact that Daniels has been wrestling for 24 years but he has never won the World title. Both wrestlers hit their signature moves on each other and Cole dominated the match. In the process he made Daniels bleed. Daniels hit the Styles Clash as it paid homage to The Phenomenal One AJ Styles.
It got interesting when Cole delivered a Super Kick to the referee. That caused Frankie Kazarian to interfere with his  Bullet Club t-shirt. Kazarian asked for Cole for the ROH World Title to hit Daniels with it. Kazarian threw the belt down, as he ripped off his Bullet Club t-shirt. He revealed that he was wearing a Daniels Destiny shirt. Then Kazarian gave Cole the middle finger. Daniels made a gun sign at Cole as he looked like he just saw a ghost. He hit the Best Moonsault Ever three times as he became the new ROH World Champion.
Conclusion
Overall this 15th-anniversary pay-per-view was better than anticipated it deserved a 9 out 10. It had several memorable moments that kept the fans entertained.
Follow @Nino_416 on Twitter
All the photos were provided courtesy of Ring of Honor