A Homecoming Win for Brady, Patriots Topple 49ers 30-17
Tom Brady threw four touchdowns in a homecoming match and got his New England Patriots the 30-17 win in Santa Clara over the San Francisco 49ers. With this win, Brady tied Brett Favre for second most career wins in NFL history with 199 in regular season and playoffs.
His touchdowns went to four different receivers: Julian Edelman, James White, Danny Amendola and rookie Malcolm Mitchell. The first score came on the Patriots first drive after a great defensive effort getting after Colin Kaepernick. The 49ers opening drive ended in a three and out after Kaepernick was sacked twice by Malcolm Butler and Patrick Chung while Carlos Hyde only rushed for one yard.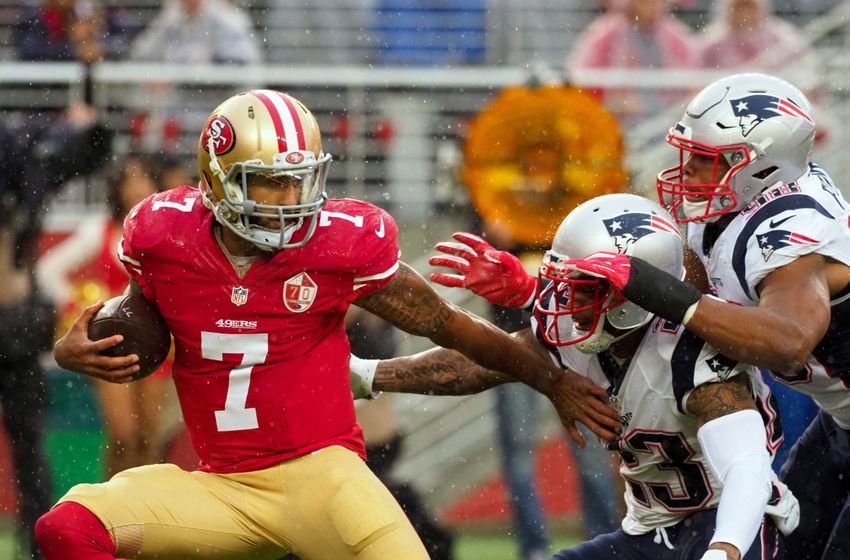 With the punt reaching the 43-yard line, Amendola had a return of 30 yards putting the Patriots seven yards away from the red zone. Brady found Edelman for seven yards then Dion Lewis for nine yards to push the offense in the red zone. A shotgun play was in effect as Brady ran for seven yards up the middle. Next play on third down, it was a Brady to Edelman touchdown for four yards.
Although on San Francisco's next drive they made it down the field into scoring position, the defense drove Kaepernick into the ground for another sack as they were six yards away from a possible touchdown. The 49ers had to settle for a 33- yard field goal from Phil Dawson to put them on the board.
Patriots' second touchdown of the afternoon came off a six play 77-yard drive. LeGarrette Blount started it off with a 44-yard rush up the middle, where then Brady found Edelman again for 13 yards and then again for another six yards. A fake pass to Edelman threw off the defense as Brady found White for the nine-yard touchdown making the score 13-3 to begin the second quarter.
San Francisco gutted it out to make the game close again. Kaepernick found Hyde for 12 yards followed by a 17-yard scramble of his own. A pass short left to Garrett Celek for 19 yards moved them closer and closer. A defensive hold by Logan Ryan gave the 49ers another five yards after an incompletion on second down. Finally, a deep right pass to Vance McDonald for 18 yards put them within three of New England.
Neither team scored in the third quarter, but the Patriots were close as their final drive in the third quarter ended with a touchdown to begin the fourth. Mitchell caught a pass for 21 yards deep down the middle. White then caught a short right pass for 14 yards as well as Martellus Bennett for 14 yards as well. A short five-yard pass to the middle to Amendola from Brady extended their lead to 20-10.
San Francisco went three and out on their next two drives, which needed a score if they wished to stay in the game. New England went six plays for 69 yards as rookie Malcolm Mitchell was found deep right for 56 yards and his first career touchdown.
The Patriots went on to kick a 38-yard field goal on their next drive keeping the game out of reach for the 49ers. Shaun Draughn caught a 13-yard touchdown pass to give Kaepernick his second passing touchdown of the day. An onside kick by Dawson was unsuccessful as Amendola recovered the ball and the Patriots improved to 8-2 on the season.
Brady finished with 280 yards, four touchdowns and zero interceptions as Blount followed through with 19 carries and 124 yards rushing. Kaepernick had 206 yards passing and two touchdowns. Hyde had 86 yards rushing off 19 carries.
New England remains on the road next week against a division rival, the New York Jets, The Jets will be coming off a bye with a 3-7 record, last in the AFC East. The 49ers will go on the road to face the Miami Dolphins who are currently second in their division and on a five-game win streak.