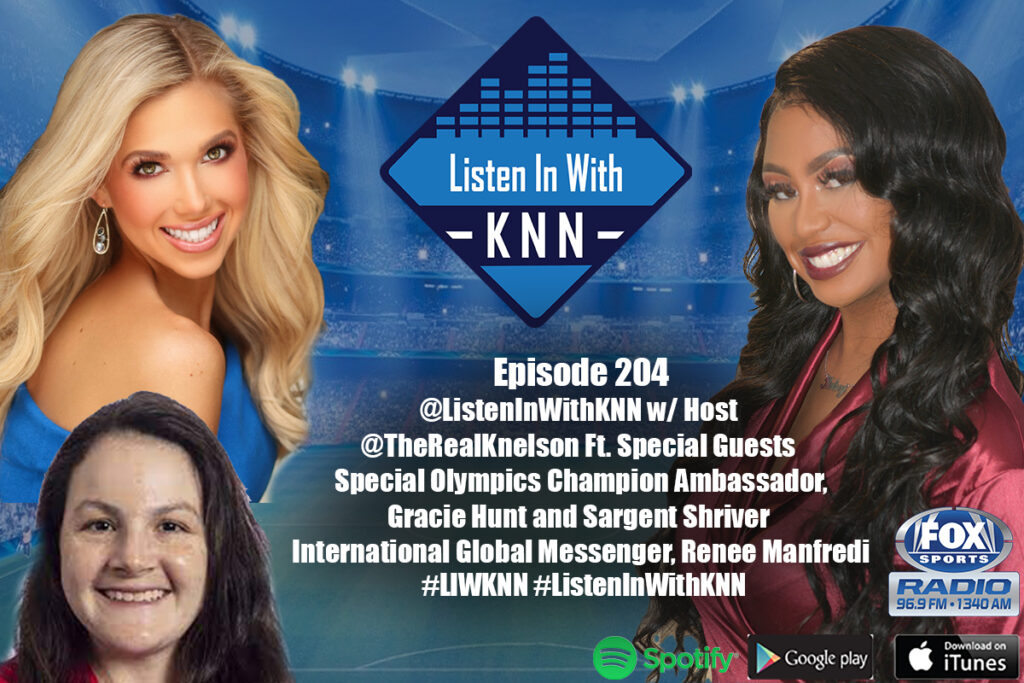 On this special edition of  "Listen In With KNN" sports talk radio/podcast show presented by FOX Sports 1340AM/96.9 FM, executive host and producer Kelsey Nicole Nelson was joined by current Miss Kansas 2021Gracie Hunt, and Special Olympics 2018 Female Athlete of the Year, Renee Manfredi. 
Nelson kicked off the show by talking with Hunt, who was crowned Miss Kansas in April of 2021. When reflecting on her feelings in that monumental moment, Hunt said, "It was such a joy. (I felt) really overwhelming happiness and excitement." 
She went on to emphasize the importance the role holds to her. "I really see it as an incredible honor and a job, which I've tried to make the most of because I want to set an example for what it looks like to be a state titleholder," Hunt explained. "It should not just be about you and how that crown can elevate you, it should be about you using the light of that crown to shine on those around you."
Hunt has done just that through her work with various non-profits, specifically Special Olympics. The organization is close to her heart, as she was a part of Special Olympics Unified soccer team in high school. She works with them now as an ambassador, spreading the mission of the #InclusionRevolution and advocating for inclusive health. Hunt said Special Olympics showed her "no matter who you are or what you're going through, you can achieve your goals by being the best version of yourself."
Hunt is also the CEO of her own non-profit organization called "Breaking Barriers Through Sports." Hunt was inspired to found the organization in 2016 after traveling abroad in her youth, and meeting several children who loved soccer but lacked access to basic equipment. The organization works with schools to reach kids from all backgrounds, and aims to give people a positive identity and confidence through sport.
The idea that sports can be used to facilitate a more positive self-image was also present as  Special olympics athlete Renee Manfredi who hails from Hawai'i talked to Nelson about her journey with the organization.  
Manfredi shared  she wasn't always drawn to sports. "To be honest, I'm not real big on sports," Manfredi said. "Sports was something that I was always left out of, even in school. Every time I tried to join in, I would mess up, and kids would give a sigh, or scold, or just laugh."
Manfredi was introduced to Special Olympics later in life by her mother. She explained in her interview that it was the only place locally for an adult with intellectual disabilities to be able to play sports. After thinking to herself, "what do I have to lose?," she and her mother went out to Special Olympics. She described the experience as "walking through a door full of possibility and opportunity."
Manfredi  felt welcomed, accepted and embraced as her authentic self. Manfredi discovered that she loved being a part of a team. She saw Special Olympics as a place where she could be herself. Manfredi explained to Nelson that Special Olympics taught her to, "Hold her head up. There was no pressure or expectation to be like anybody else, act like everybody else, perform like anybody else .. I could actually just take a breath and be happy just as I was … it helped me to see that it was okay to just be me." 
Manfredi has gone on to have a successful career as a Special Olympics athlete. Her team won the gold in the 2018 Special Olympics Games for soccer, and she was also chosen as the Female Athlete of the Year. 
Today, Manfredi is a Global Health Messenger, which has given her the opportunity to spread the mission of the Special Olympics and advocate for inclusive healthcare. Research has found that people with intellectual disabilities die 16 to 20 years sooner than people without intellectual disabilities – not because of their disability, but due to preventable health conditions. Manfredi works with healthcare professionals to help combat this issue. 
Both Manfredi and Hunt are dedicated to doing all they can to broadcast the mission of Special Olympics. To help support their works, and become a part of the #ChoosetoInclude movement, go to JoinTheRevolution.org.