Interview: Tennis Legend and EleVen CEO, Venus Williams
Tennis legend and EleVen CEO, Venus Williams, elegantly innovative and highly chic women's fashion brand EleVen has seemingly captured the imagination of consumers, both domestically and internationally, since its well-documented launch.
Williams is a five-time Wimbledon champion, two-time U.S Open winner, as well as a three-time Olympic gold medallist. She has also triumphantly blazed an inimitable trail in the world of fashion courtesy of the success of EleVen.
FOX Sports 96.9 FM/1340 AM's Dean Perretta caught up with Tennis legend and Eleven CEO, Venus Williams, to find out more about EleVen and its incredible collection which continues to redefine the contemporary fashion market.
Perretta: First and foremost, Venus, how important was it for you initially to authentically curate a truly definitive and unique brand identity for EleVen?
Williams: EleVen's brand identity is very important to me. Fitness is all about the journey – a journey that has its ups and downs – to be an EleVen is all about the desire to be better and surpass what you believed you were capable of. There is nothing else out there like EleVen – it's a fashion brand that uses fitness to convey the message. Putting fashion and function behind every decision we make has made the design process feel really organic. Every print, every shape feels like the brand – I always ask 'Is it an EleVen?'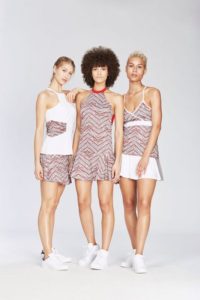 Perretta: EleVen's incredibly well-received diverse apparel range unquestionably empowers women universally courtesy of the critically acclaimed EleVen's immense core values and stylish essence. What are your primary ambitions and goals for EleVen in the long term?
Williams: EleVen wants to not only be the fashion-forward athletic brand of choice, but also to motivate woman to move their bodies, and ultimately live healthier lives.  When women take care of themselves, they become their best selves and are in a position to give back to others.
Perretta: In terms of EleVen's tremendous success and compelling evolution since the launch of the brand, what have been some of the noteworthy highlights for EleVen thus far in your opinion?
Williams: The growth of EleVen has been explosive, especially since 2016! We centralized our operations to West Palm Beach, Florida, with new offices and distribution center to better service our retail partners. We added additional categories of business – bags, evergreen lines of streamlined athletic staples, and more verticals to our collections, and kept elevating the designs.
Last year, we partnered with Lane Crawford for an exclusive capsule collection to launch EleVen in Asia, which was an exciting moment for the brand; a chance to engage a whole new audience of women.
We've also enhanced our presence at tournaments including Indian Wells, the US Open, the Miami Open, the Rogers Cup. Just this month, we even relaunched our website! There's much more to come in the future.
Perretta: EleVen has now officially expanded its brand power into the highly desirable and alluring market of Africa.  What are your overall thoughts on EleVen's popularity and growth throughout the African continent since EleVen's well-documented global expansion?
Williams: EleVen has formed a partnership with Temple Management Company to expand EleVen in the African market.  Our first foray is the launch of a pop-up shop at Luik Tennis & Recreation in Lagos.  EleVen is just getting started and believes in the market from Morocco to Nigeria to South Africa and is seeking the best retail partners to grow the business in the market. It's exciting to tap into and explore this market.
Perretta: Before we leave Venus, which particular international markets do you envision and aim for EleVen to successfully expand into next?
Williams: I only know worldwide domination, but in all seriousness, we are looking to grow significantly in EleVen's presence in 2019 in Europe, Asia, the Middle East, and North America – Canada and Mexico. Stay tuned!