The University of Tennessee has landed a top-ranked JUCO defensive end, Jordan Allen. However, his path to Knoxville was unconventional.
SAN FRANCISCO — Jordan Allen was running up a hill at Aggie Stadium at the University of California-Davis this past March. He had just decided to leave the program to attend the City College of San Francisco.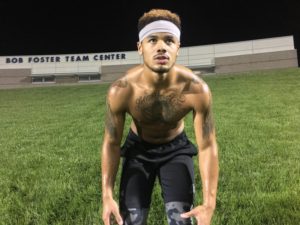 Allen, who was a red-shirt freshman at California-Davis, decided to transfer to a junior college to improve his chances of being recruited by a high major program.
Allen's mother, Lisa McGee, was concerned her son was risking his full-ride scholarship at UC-Davis for something that wasn't guaranteed. Going to San Francisco meant he wouldn't have any scholarships and if he were to get injured then he'd be responsible for funding his schooling.
"I was very nervous because he was walking away from a free education that I knew I wasn't able to provide for him," McGee told WHAP/Fox Sports 1340AM. "But Jordan is confident in his abilities and believed he was going to get to the next level."
Allen knew the risks but decided to go to San Francisco anyway. He took a gamble on himself and went in with an "all or nothing" mentality.
"I just believed in my skills," Allen said. "I studied top players at my position and I know I have just as much if not more skills than them. Initially, I just knew I could play the game that I love at an FBS level."
Allen finished his Spring semester at Davis and moved in with his friend's parents who live in San Francisco. His mother believed he could learn a lot living in the city.
"He already had experiences of being independent when he was at Davis when he was 17 years old," McGee said. "I was happy he was going to San Francisco because he could learn how to use public transportation and how to navigate the city."



Allen enrolled in school and immediately started preparing for the season. He had roughly six months to grab the attention of top-ranked schools.
Football is the Key to Jordan Allen's Future: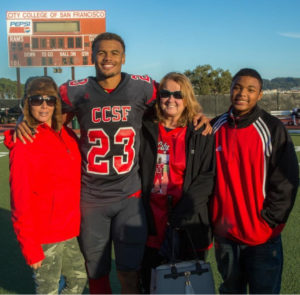 For Allen, football is more than just a game. It's his ticket out of poverty and his way to provide for his family. His mother has been on dialysis for much of his life and trying to stay well is a daily challenge for her. However, she instills in her children that they must strive for greatness despite any adversities.
"There are no excuses," McGee said. "I get up and go to work and I'm on dialysis. So they have no excuses."
McGee reminds her son to "treat the janitor like you would the CEO and if you say you're going to do something then do it." She wants to make sure her children put 100% in everything they do.
That's exactly what Allen did. He produced at a high level during his JUCO season.
The offers began to come in for Allen. Top-ranked programs such as TCU, Michigan State, Colorado, Nebraska, Arizona State, and Tennessee all wanted him to be a part of their team.
Allen went to Fort Worth, Texas, and visited Texas Christian University (TCU). He initially thought it would be the perfect place for him, but after careful consideration, the defensive end decided to re-open his recruitment and visit other schools.
Allen visited all of the different programs and did his due diligence with his family. He wanted to make sure the next jersey hit put on would be an ideal place for him and his family.
On Wednesday, December 20, Allen chose to go to the University of Tennessee.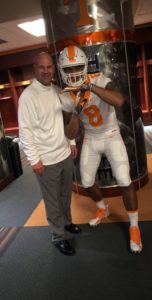 "I love Knoxville," Allen said. "I wanted a head coach that was once a defensive coordinator, and I wanted a coaching staff with not only great coaches but with great men with great character."
Allen's mother went to Tennessee as well and liked what she saw.
"It made me nervous because of the changes at the program, but that's out of their control," McGee said. "But Tennessee did assure me his skills and talents are definitely going to be utilized."
For McGee, her main concern was her son being around a coaching staff that can continue to shape and mold her son.
"Jordan has a great character about himself," McGee said. "I just want them to build on that so he can mature even more so."



On ESPN's Top 50 JUCO 2018 class list, Allen is ranked 9th. He thinks he will bring a lot to Tennessee and wants to be a part of history.
"I'm an elite pass rusher," Allen said. "I'm the type of guy that'll watch film and study the playbook so I can be effective on first and second down."
Allen understands he's going to be roughly 2,500 miles away from his mother and she admits it hasn't hit her yet. Nevertheless, Allen is on a mission.
"I have goals I want to accomplish," Allen said. "I think this is the best opportunity for me to help my family. So yeah, I won't be able to see them much in the short-term, but it'll be for the best in the end."
Not only does he want to impact the football field, Allen also wants to be part of the city of Knoxville.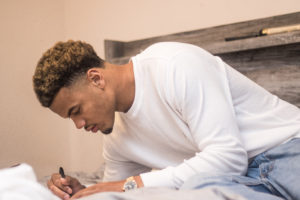 "I want to be big in the community," Allen said. "Being a role model to the younger generation so they can have someone to aspire to be like. I have a big interest in community outreach such as visiting hospitals and being a part of the make a wish foundation. I want to make Knoxville my home."