The Washington Nationals have signed free agent first baseman Matt Adams to a one-year/$4M deal with up to $500,000 in performance bonuses.
WASHINGTON — The 29-year-old former Brave and notorious Cardinal will be assuming an important bench role for the team. With Adam Lind on the move in free agency, Adams will most likely be the go-to guy for an important pinch AB.
For the 2017 season (Braves + Cardinals) he put up a finishing line of .247 AVG, 20 HR, and 65 RBI. He will be filling in the first base position for Ryan Zimmerman when needed, which he is quite familiar with. In Atlanta he was a temporary replacement for the injured Freddie Freeman.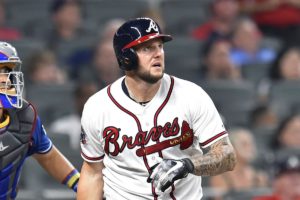 Now let's answer and dissect the obvious befuddlement in the room, why choose Adams over Lind?
For starters, the result of Lind's departure was mutual with both player and club. The two parties could not agree on the $5M deal and Adams comes at a cheaper price for about the same level of production. Both are big sluggers that can absolutely rake against righties and are quite average against southpaws. As Jorge Castillo, Washington Post reporter, explained in his latest report regarding the acquisition:
"…The two also have very similar career splits. For his career, Lind is batting .288 with a .852 OPS against righties and .217 with a .592 OPS against left-handers – though Lind was better off southpaws last season. Adams, meanwhile, has batted .286 with a .828 OPS against right-handers and .206 batting average with a .539 OPS against lefties in his career."
In layman's terms, there is no drop-off at the position. The Nationals are getting a seven-year vet to add to the clubhouse for a price of their liking and he is 5 years younger than the hard-hitting Lind (34). Adams is the first position player to be secured by the team this offseason. Another bench piece may be insights for this team and a catcher to pair with Matt Wieters (attention on Miami Marlins catcher J.T. Realmuto is high) which is the more pressing matter.