In a thrilling race that saw a weather delay, track record 14 cautions, a Green-White-Checkered finish, and two red flag delays, Kasey Kahne was able to "kiss the bricks" and win the Brickyard 400. The win snapped Kahne's 102 race winless streak.
The race looked to come down to fuel mileage as Trevor Bayne topped off on lap 117 and was the first driver on the track that could make it to the end. A wreck with 10 laps left which collected Clint Bowyer, Kurt Busch, Erik Jones, and Jamie McMurray changed those plans. A 25 minute Red Flag was waived due to the cleanup. The driver that benefited from the late caution; Kasey Kahne.
Gamble For Kasey Kahne Pays Off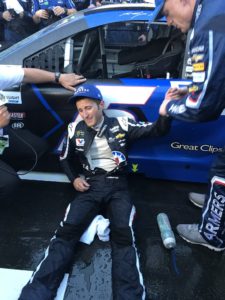 As the wreck unfolded on the front stretch at IMS, Kahne was already on pit road to top off on fuel. The caution allowed Kahne to stay on the lead lap and take over the race lead.
More Bad Luck For Kyle Busch
Pole sitter and stage 1-2 winner, Kyle Busch, was collected in a wreck on lap 110. On a restart from an earlier caution that saw Ricky Stenhouse Jr. hit the inside wall, Martin Truex Jr and Busch got tangled up. The two made contact in turn one which resulted in both cars hitting the wall. Busch, who has yet to win in 2017, extended his winless streak to 36 races. He over half the laps in the Brickyard 400.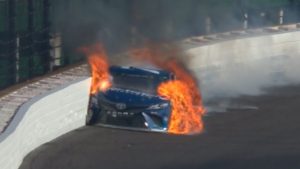 After being released from the infield care center, Truex Jr. said "I got loose and wrecked him. It was totally my fault."
Last Brickyard 400 For Dale Jr.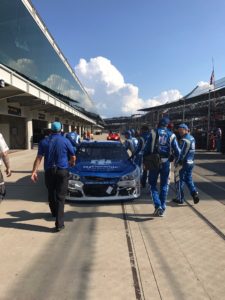 In his last Brickyard 400, Dale Earnhardt Jr. finished 36th. The 14 time most popular driver award winner was pushed into the back of a car on lap 74 which caused damage to his radiator. With just six races left until the playoffs start, Dale Jr. is in danger of missing the postseason.
Top-10 Finishers
The rest of the Top-10 were Brad Keselowski, Ryan Newman, Joey Logano, Matt Kenseth, Kevin Harvick, Daniel Suarez, Matt DiBenedetto, Chris Buescher, and A.J. Allmendinger.
The NASCAR schedule heads to Pocono next week for the Overton's 400.
Cody Stewart can be reached on Twitter @_CodyStewart