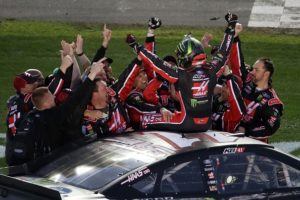 A move that was talked about for a year, turned out to be the jackpot. Kurt Busch and his Stewart-Haas Racing team won the Daytona 500 tonight. The move that was talked about for so long? SHR moving from Chevrolet to Ford.
All week this organization showed speed. Still, a lot of uncertainty was hanging over Tony Stewart and his race team.
Kevin Harvick lead a good amount of laps in Sunday's Daytona 500. Harvick was even able to win the second stage of the race to gain points towards the playoffs. That black cloud that was hovering over SHR finally let out a bolt of lightening on lap .
Jimmie Johnson was spun out by Trevor Bayne which collected all four Stewart-Haas Racing drivers. Clint Bowyer and Danica Patrick instantly went to the garage which ended their day. Harvick had major damage, but was able to patch the car up well enough to keep minimum speed. Kurt Busch was the driver that came out virtually unscathed.
Over the last 20 laps, Kurt Busch stayed within striking distance of the leaders, just waiting on his time to pounce. With a couple of laps left in the race, leader Chase Elliott ran out of fuel, which jumbled up the lead pack. Kyle Larson was able to take advantage and take over the lead. The very next lap, Larson had the same fortune as Elliott. Kurt Busch pounced and took over the lead for good.
Victory Lane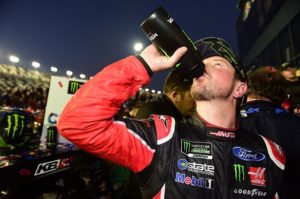 Crossing finish line first at the Daytona 500 was something Kurt Busch had never done, until today. An emotional Kurt Busch was immediately met by his wife in victory lane as the two exchanged hugs and kisses. When asked about the race, Busch said "The more that I've run this race, the more I throw caution into the wind, let it rip, and elbows out." Busch did say he found an omen during the race. "My rear view mirror fell off with 30 to go. That's an omen, because I'm not going to look at it anymore."
This win ultimately guarantees Kurt Busch a spot into the NASCAR Playoffs, but more importantly, give Stewart-Haas Racing a sigh of relief as the switch in manufacturers shows o be the right move early on.