Kyle Kuzma is giving Flint a reason to be Hopeful
It's hard to imagine in the richest country in the world there are places without clean drinking water. Yes, America is far from perfect. However, some things should not be. Tell this to the tens of thousands of people in Flint, Michigan. They are still enduring America's biggest public safety failure in our nation's history. To some, Flint may be a city many have forgotten about. They would tell you it's a city full of crime and poverty. Though this city has seen better days. Just like any other place, people that come from this Midwestern city are very proud to call this place home.
In hard times, it is the American way to rely upon sports to get you through a tough time. Regardless of your social-economical status, to see the Detroit Lions make it to playoffs can bring joy on a sad day. Flintstones, have a bright spot in the midst of darkness, one of their own. His name is Kyle Alexander Kuzma. A junior at the University of Utah and can really play "point forward." Everything about this young man has "Flint, Michigan" written all over him, both figuratively and literally.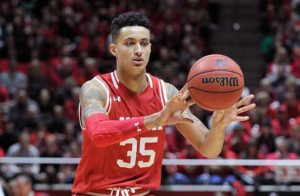 Understand What Made Kyle Kuzma:
Kuzma grew up in the inner-city of Flint and had basketball as an outlet to keep him out of trouble. Instead of turning to gangs and guns, Kuzma picked up a basketball and went to the local YMCA. Kuzma still reflects on how his mother, Karri Kuzma, would work two jobs and at times would drop him off at the gym as she went to her second job. Life was far from easy for him as he moved around the city at one point a total of nine times.
"Not having a lot of money, my family and I moved around Flint nine times in 16 years," said Kuzma. "I recall one year, my mom was laid off and we had to move into my grandmothers' basement until she could get back on her feet. Moving around so much caused me to go to three different high schools so I didn't have that firm stability."
In Flint, only the strong survive. Kuzma was taught at an early age not to make excuses and to turn lemons into lemonade. Watching his mom, juggle two jobs and being a full-time parent instilled a work ethic that he uses today in basketball. His mother, who had dreams of her own and ran track, made the tough decision to leave college after she found out she was pregnant with Kyle.
"I was on the track team at Hillsdale College with a scholarship when I left." Karri reflected adding, "As soon as I quit college. I got the first job I could find which was at Speedway, a gas station, and in the first two months I got promoted to assistant manager and 22 years later I've been in management ever since. I worked my ass off so I didn't make only minimum wage."
It is this work ethic and determination that helped shaped Kyle into the young man we know today.
"We have a great relationship." Kuzma said as he reflected on his bond with his mother then he added, "She has been there since day one with me. She has worked two jobs at once many times in her life and to see her do that really instilled the no excuses mentality in my head. That's why I think I have such a great work ethic because of her."
We saw that recently with Kuzma. Around Thanksgiving, Kuzma had a sprained ankle. He called his mom and told her all about it. Knowing he is the leader of the team and this team will only go as far as he could take them. His mother would fly to Salt Lake from Flint and help nurse his swollen ankle. Kuzma would play the very next game. When asked about playing in pain Kuzma said,
"I'm from Flint. I can tolerate a little pain."
It is that mindset that separates Kuzma from the rest. Taking a minor setback and turning it into something positive. Something we see people doing across Mid-Michigan on a daily basis.
Flint and Kyle Kuzma are one in the Same.
Without the upbringing that Flint has provided for Kuzma he would not be the young man we know today. In a generation, that is full of unappreciative young people who are self-centered, Kuzma isn't that way at all. Flint would not allow him to be. This city is the type of place where no one really has more than the other person. This is why Kuzma is very humble.
"Flint is so important to me because that's where I was born and raised. When you're from Flint you hold a certain type of pride because you are from the city. It's a city where if you don't work hard you don't make it, whether that's basketball or working at general motors, it's just a humble, blue-collared city that is very dear to me."
Kuzma is the type of kid that would give you the shirt off his back if you needed it. He's done that before, however, it was a winter coat instead of a shirt. These noble acts of kindness are what makes Flintstones proud to call Kuzma one of their own.



"It's a great thing that I'm humbled for definitely. Growing up in Flint I never thought I could be a role model to young kids because I wasn't one of the top guys in my city growing up but now it's a blessing that with all the things that are happening in  Flint, that I can potentially be a bright spot in the mix."
Being the Bright Spot…
A semester away from graduating and a season away from potentially going to the next level. Two reasons why people in Flint are happy for Kuzma. A city that can be represented in so many ways, has a positive representation in him. His story alone tells us that we too can live out our dreams by working hard and not taking the easy way out. Kuzma's background may be stereotypical, but his outcome is far from it. Kuzma says he is "addicted" to basketball and never wanted to do anything else. He was a good kid growing up and he adds to society and not take away from it.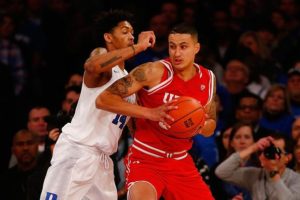 Times may be tough for Flint right now. However, staying up late to catch a game on the PAC-12 Network to watch Kuzma flourish gives comfort. Young kids see him in the offseason hooping at the local gym knowing they too can achieve their dreams by doing the right thing. Kuzma's life shows us that you can grow up in poverty, but obtain a college degree and live out your dreams. You don't have to allow circumstances beyond your control affect the outcome of your life.
"Flint is so special to me and it has made me the person I am today. Flint is a very tough city, and if you're not tough in that city, you will fold. It has taught me to count my blessings because not everyone is lucky to make it out."
Flint may have taught Kuzma to count his blessing because everyone not lucky enough to make it out. However, Kuzma's path in life is teaching many young kids whether they are from Flint or any inner city. You have options and if you choose wisely, you too can live the American Dream.
School Means Everything:
Regardless of what the future holds for Kuzma. He will cross the stage this coming spring with his bachelor's degree. Something that makes his mother very proud because that's something she wants to accomplish.
"Kyle graduating from college means a lot to me because I was in my last year (of college) when I got pregnant with him." Karri Kuzma said, then went on by adding "I quit to have him. Best decision I ever made. I've been going to school here and there to earn my degree and so far I just got my associates."
Perhaps, Kuzma will get a chance to live out his dream and in return help his mom out by helping her live out hers and obtaining her degree. Basketball afforded Kuzma the opportunity to get a great education and he will forever have a degree to fall back on if needed. Kuzma destiny is now in his hands as he continues to grow in front of us. We can learn from his mother's courage and work ethic and Kuzma relentless determination to be successful. We can use their story to one day have a storybook ending of our own.
https://www.youtube.com/edit?o=U&video_id=j_JnVA5kjjM