Las Vegas, Nevada —-Lavar Ball is notorious for making outlandish statements. However, over the weekend he made a valid point. He mentioned fans came to Las Vegas and filled the Thomas and Mack arena to see Lonzo Ball. Instead, they were introduced to Kyle Kuzma. Shooting roughly 46% from the field and leading all scorers with 31pts. Not to mention he grabbed nine boards. The 27th overall draft-pick displayed offense that gave hope to Lakers' Nation.
"I've been in the gym (doing) a lot shooting," Kuzma said after the 86-81 loss to the Boston Celtics. "I've been working since the end of the season to improve my shooting ability. It's all about getting reps and being in the gym."
Kuzma wasn't shy at shooting the ball from downtown. He was 5/10 from behind the arc. Since college, he's been crafting his game shooting from the perimeter. Now, he's comfortable with taking that shot, even more so than when he was at Utah.
"Just because I know I gotta get my legs into it. The college three, you can kind of shoot that like a free-throw. If you want to. Being that deep, I gotta really focus on getting my legs into it. Just the mechanics of my shot by doing so I more efficient and more effective."
Zo to Kuz non-stop connection:
Kuzma's teammate, Lonzo Ball is known for putting the rock right where it needs to be to put his guys in position to score. That was also the case last night. Ball finished the night with a triple-double: 11 points, rebounds, and assists. Kuzma was the beneficiary of some of those assists and he mentioned how valuable it is to have such a generous point-guard.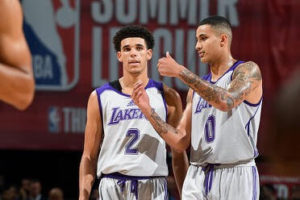 "It's good man. Lonzo is a great player and it's fun to play with a point guard that's so pass first and his head's always up. If you're a basketball player that's a person you want to play with. We got a long ways to go and we still have to keep gelling and getting better."
Kuzma took note of the record sell-out crowd here in Las Vegas. All of the excitement here had him thinking about what it's going to be like to play in front of the home-crowd in the City of Angeles. Fans traveled the four hours to watch them play in the desert. It's only expected the crowd will be just as supportive back home.
"It was a lot energy starting out the gate. We got out to a 10-0 run then 17-5. The fans were going crazy. I just can't wait to play in Staples because I know the fans will be even better."
Moving Forward to Monday: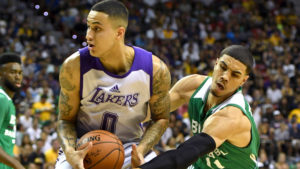 The Lakers are off today, but will play again against the Sacramento Kings on Monday night at 7:30 p.m. Pacific Time. Kuzma's play last night demonstrated he's comfortable at taking the shot when it's there. He had 26 field goal attempts, 10 of which were from downtown. Now moving forward, he must display consistency. If Kuzma continues to wow the coaching staff in practice and have similar performances here at Summer League, then Lakers' Nation may have a special player on their hands not named Lonzo, but Kyle Alexander Kuzma.
For more on Kyle Kuzma, check out some of these stories here on Fox Sports 1340AM: