Kyle Kuzma was named the MVP for the NBA Summer League championship which should come as no surprise to those who have followed his story.
Two of the most overly used phrases in sports are "hard work pays off" and "you can do anything you put your mind to." However, when Kyle Kuzma said it Monday night after winning MVP of the championship Summer League game, it held value.
Prior to the network interviews and before he became the leader of the Utah Utes, Kuzma was a redshirt freshman eager to play. Minutes were hard to come by and whatever he wanted, he had to work for it. His mother, Karri Kuzma, taught him that there are no handouts.
She texted him ahead of the game saying "show the world who Kyle Kuzma is." He did just that by dropping 30 points and grabbing 10 boards. Nonetheless, his road here wasn't easy. Yet, his commitment to the game is the reason he and his family can bask in his success.
"Kyle's work ethic is like no one else's," his mother said. "He knows what he wants and goes out there and gets it. He's been like that for years, setting goals at an early age and obtaining them. He's always in the gym even when he was at school and he would fly home. He wouldn't come straight home. We went directly from the airport to the YMCA all the time. It's a mentality."
In addition to his work ethic, Kuzma faced a lot of adversities growing up. Besides living in Flint, Michigan, and everything that comes with living in an urban environment, he dealt with a lot of personal issues too that gave him something to live and play for.
"Just a lot," his mother said reflecting over all of the trials and tribulations. "Life, prep school, and struggling to make ends meet. Deaths of loved ones. My grandma and grandpa. He was really close to (them) and that was really hard on them. My grandma in her 70s would drive Kyle to practice in Detroit on Rosa Parks Blvd because I had to work and couldn't. She did a lot for us and when she passed it was like we had no one. My grandpa passed when Kyle was five, but he was like his first father-figure. They were always together."
Kuzma never knew his biological father. However, he didn't go without father figures. After the passing of his great-grandpa, his younger siblings' dad accepted him as his own. This tight-knit family structure kept him on the path to success, detouring him from making the wrong choices in life. At a young age, his mother taught him how to cook so he wouldn't be hungry or waste his money on fast-food. Most importantly, so he does not have to depend on anyone else. Independence is something his mother instilled into him since he was a child.
The Aggressiveness in Kyle Kuzma's Game
Kuzma admitted he didn't realize he could play with so much aggression after being crowned Summer League Champion. However, his mother always believed he was capable of being aggressive. It's displaying now because of the freedoms he has on the court.
"I think he's always had it in him, but in college, he maybe didn't have the confidence he does now. I think he may have been held back a little, having to scrap for his plays and points. Now it's like free range. Do you. He is just playing ball like he would play at The Y, relaxed just making plays. He always had it in him and I knew it. I just always told him to be more aggressive, score points. In college, he would always tell me I don't care about points. I disagreed. He was a very unselfish player, and he can make passes like Lonzo (Ball). He sees the floor and can make great passes too. Now his game has changed. Now he scores and that's what has changed about his game. To get the W (win) everyone has to contribute and that's what he does now on every level."
Hard Work Paying off
Combine his mother teaching him the keys of life, in addition to his work ethic, and the end results equal tears of joy. As Kuzma and the Lakers became champions and he was the game's MVP, his mother and younger brother Dre held each other on the couch sobbing.
"Dre and I pretty much cried. That was pretty amazing but other than that it's just like always nothing's changed. He's Kyle and this is exactly what I knew he would be so it's no surprise. My excitement has just turned into pride and joy. It's just surreal. and I know God is real at this very moment. The blessings come to those who deserve."
What's Next?
Now that Summer League is over his mother feels there's nothing more she needs to tell her son. He can now focus on moving to Los Angeles finding a house and perhaps a car. She'll ensure he's being frugal with his finances because money management is just as important as anything else. He'll continue to work out and get prepared for a season of high expectations. Laker fans are still getting to know him. His following on Instagram has grown tremendously.
"Only thing I would say to (fans) is know his name," his mother said. "He will work hard for your loyalty and for Lakers' pride."
The Real Story of Kyle Kuzma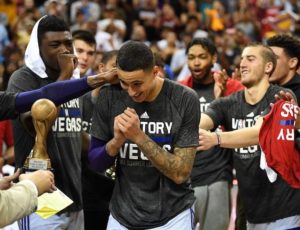 When Kuzma said hard work pays off, he meant it. It starts with his mother, Karri, who had to leave school because she was about to have her first born son, Kyle. The sacrifices she made working long hours and fighting the odds of being a single-mother. She wanted the best for her son and that's what he gave her. He's not only a Los Angeles Laker, but he's also a college graduate.
His will and determination and spending countless hours in the gym paid off. Many people doubted him and now he's being called the steal of the draft. It is the work ethic, resilience, and commitment of both Kuzma and his mother that we can all learn from. It was many nights either of them could've given up. However, they didn't. They believed you can do anything you put your mind to. That's how we all know the name, Kyle Alexander Kuzma.
More Stories on Kyle Kuzma here on WHAP below: