Lebron and Kyrie Irving: Defended the Land
Cleveland, Ohio — Weather forecasters in Cleveland predicted showers on Friday evening. However, to everyone's surprised it wasn't precipitation that fell out of the sky. More like threes raining down inside of The Q, by the Cleveland Cavaliers. Facing elimination, and Lebron James' legacy on the line. Cleveland had no other choice but to win. That's exactly what they did blasting the Warriors 137-116. In addition, the Cavs broke a record making the most three-pointers ever in a NBA Finals Game.
"That's part of who we are," said Lebron James. "We set a lot of records since we kind of assembled this team the last couple years. And that's just part of who we are. We got guys that can stretch the floor, make big shots, and they did it tonight, from Ky, Kevin, and Swish, and everybody else chipped end."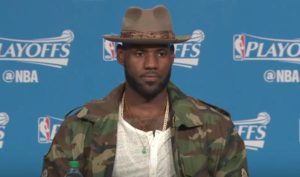 Indeed this was a collective effort by the Cavs. Tristan Thompson prior to last night was a non-factor on the boards. He had more rebounds in the first quarter of last night's game than he's had in Games 1-3. At one point, Stephen Curry had more rebounds than him.
"He's a big piece of our puzzle," James said post-game. "We all know that. He's been huge for our success the last three years… And it's been very tough on him this Finals so far. But he didn't get down on himself. He came through when we needed him the most, and that was tonight, getting 10 rebounds and dishing out five assists. So that was big time." 
Missed Opportunities and awakening the life-less Cavs:
Warriors had an opportunity to break a record as well. No team has ever gone 16-0 in the post-season in the NBA. If they would've done that they could've arguably became the best team in NBA history.  Instead, they find themselves in a 3-1 situation again and last year's Finals that didn't fair well for them.
"Man, different team, man," Stephen Curry said. "Obviously we haven't felt this feeling walking off the court with a loss in a while, but we have done a good job of bouncing back and being resilient all year and obviously learning from all different experiences we have been through."
Curry added, "I love the vibe we had in the locker-room after the game, understanding what we need to do differently to play better to have the first punch in that first six minutes, to play with more force and aggressiveness and physically. 
That was the message last night from the Warriors. David West mentioned the game was lost in the first quarter. The Warriors allowed 49 points in the first quarter and by half-time the Cavs had 86 points.
"We gave up a game worth of points in the first half," West exclaimed.
Game of Emotions:
Good basketball and trash-talking are synonymous. Whether it's Zaza Pachulia and Iman Shumpert wrestling over a lose ball which ended in what appeared to be a "low-blow." Or, Kevin Durant and Lebron James jawing at each other. It was must see T.V.
"Yeah you can't take everything away from the game. You're taking the hard fouls out of the game, calling them flagrant, taking a lot of stuff out of the game, but you can't take the emotions out of the game," said Kevin Durant.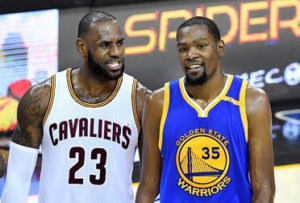 On the other hand, the scramble between Shumpert and Pachulia may have crossed the line of "what's just basketball." On the replay, it looked as if Pachulia might have hit Shumpert below the belt which could have costly consequences for Game 5. However, Pachulia isn't worried.
Zaza Giving his take on what happened:
Confusion and More Confusion:
The officiating was: controversial, suspect, confusing, and any other word you could find that would be fitting. The most mind-boggling part of the game was the issue of Draymond Green. It appeared he was called for a technical foul earlier in the first quarter. Later in the third quarter, he was hit with another technical foul. However, he wasn't ejected because there was confusion on exactly who got the technical foul in the first quarter.
Apparently, there was confusion between the officials and the table on who the technical was called on during the first quarter. Here's the transcript of the NBA Officials' comments to Pool Reporter:
By The Numbers:
The Cavs offense was potent and dominate. They never trailed and kept a double-digit lead for the majority of the game. Kyrie Irving finished the night with 40 points shooting 15-27 from the field and knocking down 7 of his 12 three-point attempts. James, with another triple-double, closed out Game 4 with 31 points, 10 rebounds and 11 assists. Kevin Love and JR Smith had a combined 38 points.
On the other hand, it wasn't Stephen Curry's night at all. He had a dismal 14 points and shot 30% from the field and 22% from the field. Klay Thompson didn't do any better either as he had 13 points 4/11 from the field and 4/10 from downtown. Kevin Durant was by himself on offense with 35 points.
Lebron James and company avoided elimination. Now the question is will they be able to win in Golden State on Monday night. If so, they might just push this series to seven. Perhaps, JR Smith shouldn't deleted that tweet.