After his best professional season, has Michael A. Taylor put himself on the trading block? With plenty of valuable free agents on the market, tough business decisions must be made for the Washington Nationals.
Posting a regular season line of .271 AVG, 19 HR, 53 RBI and a spectacular postseason where he stood as the Nats best position player, it's likely that Taylor would be their highest trading chip. With plenty of capable players on the 40-man roster, could he be on the move?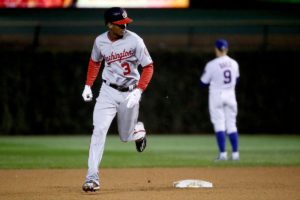 Throughout his brief career, Taylor has never been a stand out player that made the headlines. He is inconsistent and in most cases would be on the bench unless a player gets injured. That's just what happened in April as the newly acquired center fielder Adam Eaton went down with an ACL injury.
Michael Taylor was called to fill the role and did not disappoint. A beacon on the defensive end and keeping up with the star-studded lineup on offense. Taylor got hurt mid-season with an oblique injury, came back sluggish as expected and then continued what he started when former manager Dusty Baker gave him the everyday role.
In the postseason where all eyes are on each game, "Mikey T" as the Nationals fan base calls him, put his talents on full display. Taylor put up a finishing line of .333 AVG, 2 HR, 8 RBI, and 1.178 OPS once they got knocked off in the NLDS. His October heroics turned heads and certainly put him as a potential target for other teams.
As stated before he was the Nationals best position player, accounting for majority of the hits and most times putting them up in a game or solidifying a lead. In a "what have you done for me lately" league he quickly put himself on the balancing scale. Nationals general manager Mike Rizzo has a tough decision to make when it comes to the 26 year old. It's hard to tell is whether Taylor has hit his apex, but he has surely cemented his place as Washington National.
(Photo Credit: Stacy Revere/Getty Images)