Madden 2004 featured what many called, the franchises best player, Michael Vick. Vick earned the cover when he revitalized the Atlanta Falcons during the 2002 season. One the team's biggest accomplishments was becoming the first team to ever defeat the Green Bay Packers at Lambeau Field in the playoffs. So when EA Sports looked for the next cover athlete, it was a no brainer.
Michael Vick was Electric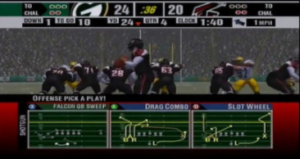 In most video games, the cover athlete is the best player on the game and the game is built around their skill set. Vick electrified the NFL with his explosive speed and agility. Anyone who played Madden knew all you had to do was drop back and take off. After all, his best received was his tight end, Alge Crumpler. Everyone wanted to pick the Falcons and use Vick to run all day.

Madden Stats
Vick was the player that anyone could big up the controller and play with. Here are his attributes:
Overall 95
Agility 95
Speed 95
Acceleration 94
Throwing Power 97
Throwing Accuracy 84
Mike Vick speaks on Madden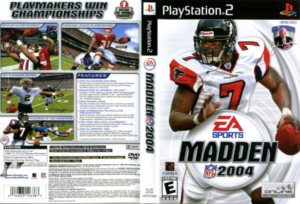 Here is what Vick had to say in the Player's Tribune  about himself and Madden 2004:
People will still come up to me all the time and want to talk about it. They'll tell me about the 95 speed rating … the 95 agility … the 97 arm strength … by now I know it all by heart. People love — man, love — to tell me their "Vick in Madden" stories. About how they ran for 500 yards in one game. Or about how they broke the touchdown record in a season, 10 times over. They'll tell me that I was like a blur of a blur. That I was a human cheat code.
I was so dominant that apparently kids created a rule, like almost a nationwide thing, known as "the Vick Rule." I think it varied from place to place, but it was basically: If you were playing against your friend, you could pick any team you wanted … except for the Falcons. Because if you picked the Falcons, then you got Vick. And if you got Vick … then it was game over.

To be honest, and I'm glad I can finally admit this, I never really understood what they were talking about. Don't get me wrong — I tried. Once in a while, when no one was around, I'd turn on the PlayStation and throw on Madden. And I'd pick the Falcons. And I'd try to see what all the fuss was about. But the truth is … I was never very good at playing as myself.

Actually, you know what? I was pretty bad.

The only person on the entire planet who wasn't unstoppable while playing as Michael Vick — was me. Michael Vick.
Madden has evolved 13 years later, but Vick was one of those players that people still talk about the way they did about Bo Jackson on Tecmo Bowl or even Mike Tyson in Punch Out. While Vick has officially retired, his legacy on Madden will remain forever.