SuperBowl 51 X-Factors Atlanta Falcons vs. New England Patriots
This Sunday at Superbowl 51, it will be an explosive and exciting affair as The New England Patriots will battle against the Atlanta Falcons. It will be an intriguing match-up between the number one offense in the Falcons against the number one ranked scoring defense in Patriots. We are a couple days away from this heavyweight clash. Therefore, I will provide my X-factors for both respected teams.
Patriots

Photo credit via Patriots
Malcolm Butler
Malcolm Butler made one of the most speculator interceptions to seal the victory against the Seattle Seahawks back in Super Bowl 49. Butler went from unknown commodity to a shutdown cornerback afterward. Fast forward to this year he once again performed at a high level. Butler allowed just a 78.2 passer rating on the 90 attempts into his coverage, which is among the top 20 qualifying cornerbacks. His 12 pass breakups in the regular season were fourth among all cornerbacks, while his four interceptions ranked sixth. Butler has to do his best contain Falcons wide receiver Julio Jones to prevent a big game but he will also have to get additional help. Butler against Jones will be a huge mismatch because Butler is 5'11 and Jones is 6'3.
 
Photo credit courtesy BarStoolSports
LeGarrette Blount
The Patriots offense is focused heavily through the air. Don't get it twisted because they have a deadly running game with LeGarrette Blount. Blount had a career year as he set career-highs with 299 carries 1,161 yards with 18 touchdowns.
If Blount has a big game, that will keep the Falcons defense honest, and in the process, it will make their passing game that much more explosive. In two playoffs game this year he has not been up to parley. He only had one touchdown and 47 yards on the ground against the Steelers. However, come Sunday, Blount must be ready for the brighter lights.
Photo credit courtesy via EastBayTimes
Julian Edelman
Julian Edelman has always been Tom Brady's security blanket whenever he needs big plays to be made. Edelman had 98 receptions 1,106 yards with only three touchdowns in the regular season. In the two playoffs games, he torched the Texans defense for eight receptions and 137 yards. The following week against the Steelers he went off once again for eight receptions for 118 yards and one touchdown. Edelman has the potential to steal the show and he will be a dark horse to win the MVP.

Photo credit courtesy via Boston Globe
Chris Hogan
Chris Hogan was an undrafted wide receiver and was a castaway who played for the Buffalo Bills for four seasons. Hogan is in his first year with the Patriots and it is a successful one. He put up solid numbers for a limited amount of targets he received 38 receptions for 640 yards and four touchdowns.
Hogan had his coming out party in the postseason. First, against the Houston Texans, he had four receptions for 95 yards. The following week Hogan made history with nine receptions for 180 yards with two touchdowns. In the process, Hogan surpassed Deion Branch's franchise postseason record of 153 receiving yards against the Denver Broncos on January 14, 2006.
Falcons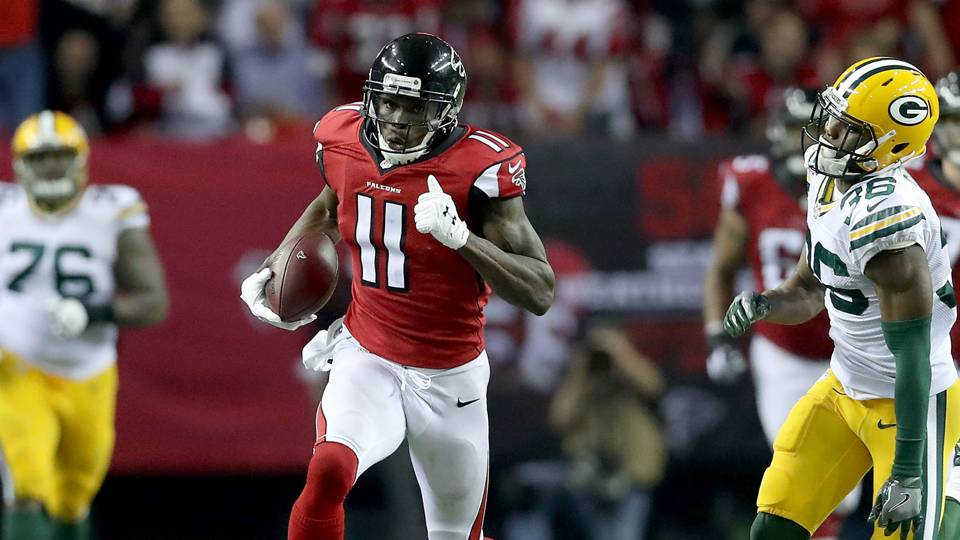 Photo credit courtesy Sporting News
Julio Jones
Julio Jones has caused nightmares all season long for cornerbacks and defenses. Jones posted 83 receptions 1,409 yards and six touchdowns this season. Jones set another franchise record with 300 receiving yards against the Carolina Pathers on Oct 2, 2016. In the postseason Jones remained hot and is currently averaging 110 receiving yards per game in five career postseason games. This is the highest average since the merger among players who have appeared in more than two playoff games.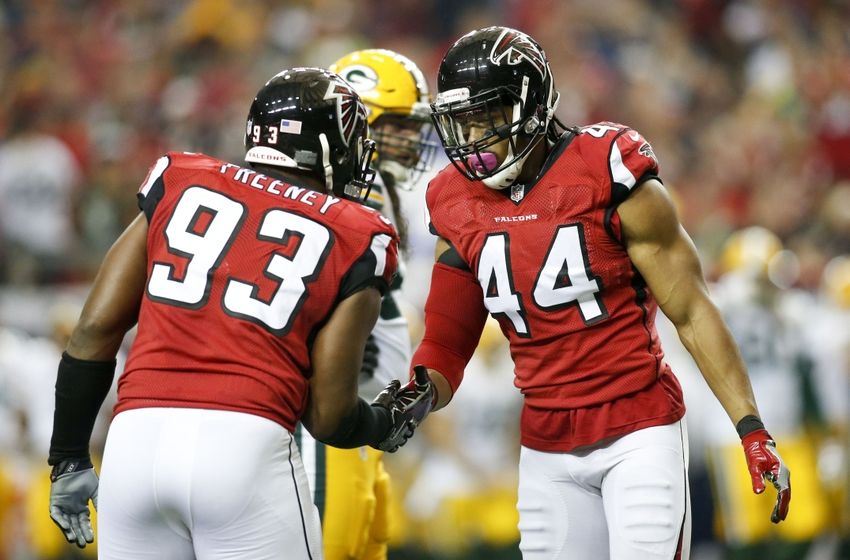 Photo credit courtesy NFL Mocks
Vic Beasley
Vic Beasley made an impact this year as he led the NFL this season with 15.5 sacks. He added five quarterback hits and 42 hurries for an improving Atlanta defense. Beasley was out to prove a point compared from the last year. Last season he just had four sacks, five hits, and 33 hurries. Atlanta's only chance to win this game is to have constant pressure on Tom Brady and don't give him too much time in the pocket.

Photo credit courtesy Sports Illustrated
Devonta Freeman and Tevin Coleman
The emphasis on the Atlanta Falcons is their explosive offense through the air. However, don't sleep on their ground game because they have a deadly one-two punch. Both Freeman and Coleman combined for the most yards from scrimmage this season by a running back combination. Freeman gained 1,541 yards from scrimmage and Coleman added 941 total yards of his own. In the process, their running backs averaged 168.9 total yards from scrimmage per game this season, also a league-high.
It was impossible to keep the duo out of the end zone. Freeman scored 13 touchdowns and Coleman had 11. They combined for 24 touchdowns and the was second-most in the NFL surpassing only the Buffalo Bills' running backs. Both can catch the ball out of the backfield if a play breaks down. Freeman and Coleman combined to catch 85 passes on the year, and Freeman's 54 catches were fifth-most among running backs. This will keep the Patriots defense on edge. The future looks very bright in Atlanta, for years to come as Freeman is just 24 years old and Coleman is 23.
Photo credit courtesy Twitter via @Mo_12_Sanu
Mohamed Sanu
Mohamed Sanu has always been an underrated wide receiver for the Cincinnati Bengals for years. Sanu this past season decided to join the Atlanta Falcons and he had a great season. He had 59 receptions for 653 yards and four touchdowns. Sanu had two decent performances in the playoffs against the Seahawks and the Packers. Sanu will have the ability to play a massive role against the Patriots. All the attention of the Patriots will be on stopping Julio Jones so it will be up to Sanu to make big plays.
Conclusion
Only time will tell what will happen in this historic match up. However. the players that I mentioned will play a massive role and could decide this game.
The stats were provided by ProFootballFocus, NFL, ESPN, Sports Illustrated
Follow me on Twitter @Nino_416