NBA Finals Predictions: Panel Edition
Ding Ding Ding! Round Three is just about underway between the Golden State Warriors and Cleveland Cavaliers. For the first time in NBA History, the NBA Finals will pit two teams facing each other for the third consecutive year. In 2015, the Warriors were able to hoist the Larry O'Brein Trophy as they were able to defeat the Cavaliers in six games. Cleveland though, not to be outdone, reigned supreme in 2016 in impressive fashion after coming back from a 3-1 deficit to defeat Golden State.
These two are back to settle the score once more. Kevin Durant, LeBron James, Steph Curry, and Kyrie Irving….what more can you ask for? Will the Warriors capture their second title in three years, or will LeBron James and the Cavaliers go back to back? Let's take a look at what our Fox Sports 1340 AM Hopewell panel think.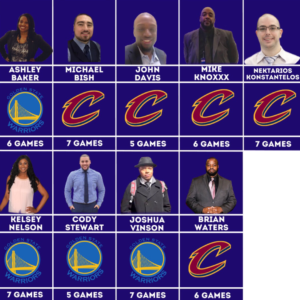 Ashley Baker
@ashbash21
"The rubber match that everyone has been waiting for! This series is going to be fast paced, powerhouse basketball. It's all boils down to this; who's time is it? Let's face it Lebron fans, he's not superhuman like we would love to believe he is and he's facing the same team for a 3rd time in the NBA Finals. Sound familiar? While no team can get past LeBron in the East, teams cannot get past Stephen Curry in the West. Curry's time started three years ago, and he'll continue to build on his legacy during these finals. Draymond Green wins the battle against Kevin Love, Klay Thompson plays better offense than J.R. Smith plays defense, and Kevin Durant, well, will be Kevin Durant. In the end, Steph goes back to his razzle dazzle type play and reminds the world why he is a top 5 player in the league."
Warriors in 6
Michael Bish
@MichaelBish_
Round 3 is set to be an instant classic between the Cavaliers and Warriors. Golden State hasn't lost a game since Kevin Durant came back from injury, sweeping the first three rounds of the playoffs. Durant is the new addition to this rivalry. Cleveland has had a great postseason as well only losing one game in the Eastern Conference Finals. LeBron is playing the best basketball of his career and Kevin Love is playing like he was expected to when he first got to Cleveland. The Warriors have no reason to lose this series. They're the more talented and stacked team. Everybody is on the Warriors. The easy pick would be the Warriors, but in the end, the Cavaliers will win this series for one reason and one reason only. LeBron James.
Cavaliers in 7
John Davis
@John_D_Davis
The Cleveland Cavaliers will go back to back and win the NBA Finals 4-1 over the Golden State Warriors. Even though the hype behind this years finals has been hailed as a grudge match and showcases the grandness of rosters for both teams, this series is just essentially another team in the way of Clevelands dominance this postseason. For the Cavs, with arguably the best basketball player in LeBron James, expect to see his teammates match his intensity. LeBron's ability to get to the basket will be difficult for the Warriors to defend and it will make way for other players, such as Kyrie Irving to takeover. Irving's performance in this years Finals will eventually reward him NBA Finals MVP honors.
Cavaliers in 5
Mike Knoxxx
@MikeKnoxxx
June is upon us, and that can only mean one thing! The greatest player in the NBA, LeBron James, is in the Finals. It's been seven consecutive years we have seen King James in the championship picture. This year is no different. The question is, can the Golden State Warriors defeat the chosen one? Arguably the NBA's best team added Kevin Durant in the off-season to put them over top of the Cavaliers, however I don't think it's possible. James has been on a mission to be known as the best of all time. I don't think he will ever be the world's number one but I'm picking them to win the championship again this year, giving him his 4th NBA title. The Cavs are a better team. I may be alone in thinking that, but we shall find out.
Cavaliers in 6
Nektarios Konstantelos
@nino_416
It's going to be a heavyweight clash between two former NBA Champions in this compelling trilogy. The Cleveland Cavaliers will defeat the Golden State Warriors in seven games. The Cavs will make history as they will go on to repeat as NBA Champions. The Warriors on paper have a stacked team with four of the top 12 players in the league. However, chemistry will be the key for the Cavs winning another NBA Championship. LeBron James will put on a historic performance in this series and he will add another NBA Finals MVP to his collection.
Cavaliers in 7
Kelsey Nelson
@therealknelson
We knew we would get to this point but here we are once again. The Golden State Warriors and the Cleveland Cavaliers are about to shake the world again as they compete in the NBA Finals. I was at last year's NBA Finals Game7 in Oracle arena and I think we are in for another long series. Kevin Durant will get his ring and have an explosive performance in the NBA Finals. Draymond Green will make up for not being able to control his emotions in last year's series and getting suspended a game. Though LeBron is coming off an MVP worthy year, and Kyrie is also continuing to play some of the best basketball of his life, the Cavs won't stop Chef Curry from leading the Warriors to the promised land once again. The Warriors are looking to erase memories of their blown 3-1 lead last year. I'm calling it, Warriors in 7. It will be another close NBA final series but we are in for another good rematch.
Warriors in 7
Cody Stewart
@_CodyStewart
This is a rubber match of sorts as the last two NBA Finals were split between these franchises. The difference from the previous two, and it's a big one, is 8-time All-Star Kevin Durant has joined the show. Golden State has shredded their playoff competition like the Lakers did in 2001 (won Finals in 5). Dub City has won 10 of their 12 games in this years playoffs by double digits. In fact, the Durant led Warriors are beating their opponents on average by 16.3 ppg. This team has yet to face an opponent like the Cavaliers this time of year though. LeBron James isn't letting age slow him down one bit as the 14-year veteran has scored 30+ points in 11 of the 13 games played. Kyrie Irving and Kevin Love are chipping in 24 and 17 ppg respectively. James will put Cleveland on his back as usual, but it won't be enough as Golden State has too much firepower at their disposal.
Warriors in 5
Joshua Vinson
@TheJoshAVinson
Now that the long drawn out post-season is finally over. The much anticipated NBA Finals are set to start with the third meeting of the Warriors and Cavs. For each of these respected fan bases, it must feel good to be in Cleveland and Oakland. At the end of the day when the sun sets and the moon rises and night falls upon us, this series will come down to Lebron James and Kevin Durant. Everyone else will hold their ground, but these two players, arguably the best in the NBA, will face off. It comes down to this, if Durant doesn't take home a championship, it's a bust for him. He left OKC in dramatic fashion and the world is demanding he win. For Lebron, his reputation is on the line. Often times, people say he's not clutch. If he wins this year though, there's nothing else for him to prove. I have the Warriors narrowly winning in seven. I foresee Kevin Durant putting this Warriors team on his back and wielding them to victory.
Warriors in 7
Brian Waters
@brianhwaters
It will come down to overtime in Game 6. Fatigue will start to set in. Draymond Green and Klay Thompson will dig deep along with Kevin Love and J.R. Smith. The Land will be rocking and with time expiring, LeBron James with Kevin Durant in his face, takes the biggest jump shot of his career and as the buzzer sounds off, time seems to stop fo everyone in Cleveland and Oakland. NOTHING BUT NET! The Cleveland Cavaliers are back to back champions!
Cavaliers in 6