Amongst a guard-heavy freshman class, Kentucky Wildcats floor general De'Aaron Fox trended upward throughout the 2017 NCAA season. Despite Kentucky bouncing from the NCAA Tournament, Fox capitalized on the national spotlight, pushing himself into the Top-Five of the upcoming NBA Draft.
In the social media era where a viral highlight tape can make even a pre-teen (Julian Newman) a household name, fans can follow young perennial stars years before they sign a letter of intent. Such is the case with this year's class, led by Washington point guard  Markelle Fultz and UCLA's Lonzo Ball. While Fox was a sensation at Cypress Lakes High (31 ppg, 7 REB), he's constantly been mentioned as the third or fourth-best point guard among the group.
Throughout the season, Fox constantly upped his game, averaging 16 points, four rebounds and four assists per contest. Along with freshman co-stars Malik Monk and Bam Adebayo, Fox led Kentucky to a 26-5 regular season record. In all of Kentucky's games against stiff competition, Fox looked more like a seasoned upperclassmen than a freshman. This includes Kentucky's 97-92 loss to UCLA on December 9, when he outplayed Ball, scoring 20 points along with nine assists.
In March Madness play started, Fox elevated, pushing the young Wildcats to the Elite 8 of the tournament. Fox led the Wildcats in scoring in every game. This includes exacting revenge on the Bruins in the Sweet 16 in an 86-75 win. In the matchup, Fox scored 39 points in comparison to 10 from Ball. In Kentucky's 75-73 loss to UNC, Fox chipped in 13 points four rebounds and four assists.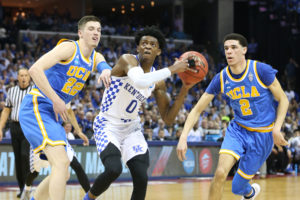 Statistically, Fox's numbers compare well to his competition. But the season and tournament play by Fox exhibited unprecedented poise and potential. While the top-two picks seem to be a lock between Fultz and Ball regardless of how the lottery pans, the remaining three picks are a toss-up. Of the proposed lottery teams, several franchises are due for a playmaker. It'll be hard for a franchise like the New York Knicks, Sacramento Kings or Philadelphia Sixers to pass on Fox. But the most intriguing bottom-feeder franchise is the Orlando Magic. Point guard Elfrid Payton doesn't look to be the team's future leader, despite improving yearly.
Fox would give the Magic, or whoever selects him, a superior talent that isn't afraid of the spotlight. Drawing comparisons to Washington Wizards star John Wall, Fox carries several of the same traits. A speedy floor general sports a high IQ and uncanny passing ability. But unlike Wall, Fox can consistently score from mid-range with his jumper. From outside is where Fox leaves much to be desired, shooting just 23 percent from three. On the defensive end, Fox plays stifling on-ball defense with a heart that's bigger than his 6'4 frame.
In arguably the best draft class in at least a decade, Fox' has done everything in his will to prove his worth.