No Days Off: Julius Peppers Heads to Robeson County To Aid In Hurricane Relief Efforts (Photos)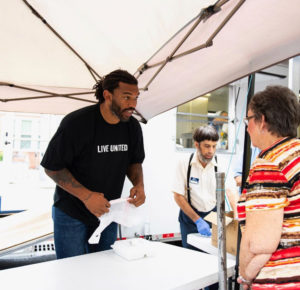 Tuesday is usually the day off around the NFL; not so for Julius Peppers. The Panthers vet defensive end headed to Robeson County where he assisted in Hurricane Florence relief efforts. United Way of Robeson County served as Peppers' host.
Peppers served meals, removed debris and interacted with community residents while Panthers writer Bryan Strickland provided a play-by-play account on Twitter. Peppers met up with a homeowner whose home was flooded twice by Florence. Next, he donned a mask to protect him against mold exposure as he entered a home that is so damaged by the storm, it will have to be torn down.
Next, Peppers helped to serve meals courtesy of Christian Aide ministries before assisting the Baptist Men organization with rebuilding a home. Flip through the pages for photos of Peppers at work in Robeson County. Donations can be made here: https://www.fftc.org/PeppersFund