The Toronto Raptors took of business in game 5 and they sent a message to the Milwaukee Bucks, as they defeated them 118-93 and they took a 3-2 series lead.
Starting strong
The Raptors continued their hot momentum from game 4. The did a fantastic defensive end in the first quarter. They were able to force the Bucks into tough shots they only shot 40 percent shooting, they made Giannis Antetokounmpo struggled into a 1-for-6 start. Raptors got balanced scoring from Serge Ibaka and Norman Powell each scored nine points and DeMarre Carroll added seven points.
The Bucks were led offensively by six points apiece from Malcolm Brogdon and Greg Monroe. At the end of the first quarter, Toronto finished on 31-20 advantage. This was the first time all series that the Raptors scored 31 points in the opening quarter.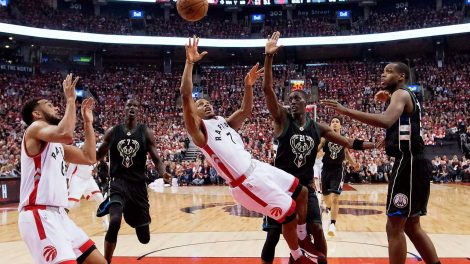 Staying focused
Giannis Antetokounmpo struggled early but he came alive in the second quarter, he made all six of his attempts and scored 13 points. The Greek Freak went into the halftime with a solid 16 points.Kyle Lowry wasn`t 100 perfect healthy as he was dealt with back issues you could tell that he was in pain. However, that did not stop him he contributed with excellent effort. Lowry managed to get a double-double 16 points 10 assists. Toronto at one point of the game led by 19 points, However, the Bucks closed the half on a 16-6 run.
Making an impact
Norman Powell had his fingerprints on the game the whole night. Powell started his second consecutive game of the series, Powell went off for a playoff career-high 25 points in 35 minutes. He shot a very efficient 8-for-11 from the floor, 4-for-4 from deep. He contributed 12 of Toronto's 33 points in the third as the Raptors outscored Milwaukee 33-25.
Unlikely heroes
DeMarre Carroll was very aggressive in the beginning of the game and it paid off. Carroll finished with 12 points in 22 minutes, adding six rebounds, and two steals. In addition, it is no surprise that Serge Ibaka had another huge game. He provided high energy as he always does 19 points with six rebounds, three assists, a steal and three block shots.
Conclusion
Game 6, will be intriguing because it will be interesting to witness the Raptors mentally state. The Raptors know that they have to treat this game as a game 7. Due to the fact, if the Bucks force a game 7, anything can happen and the Raptors don't want to take any risks. The Raptors must continue to limit Giannis Antetokounmpo and limit fast break transition points in game 6.
Follow @Nino_416 on Twitter
Photos via The Toronto Star, SportsNet, NBA, Slam Online,