In this match-up, we had two teams that were on opposite sides of the spectrum talent-wise. The North Carolina Tar Heels came into this tournament as a number one seed and prohibitive favorites by many. On the other hand, the Texas Southern Tigers is a team with not many quality players but have a lot of heart and grit. After a disappointing loss to Duke in the ACC tournament, North Carolina looks to have a strong showing. UNC head coach Roy Williams still has to prove he can help his teams produce at the highest level. With one of his best teams ever, now is the time for North Carolina to show up big in this year's NCAA Tournament.
First Half Outlook
North Carolina came into this game looking to prove they're one of the best. But Texas Southern wouldn't shy away from the competition as they came to play early on. They were up 10-8 with 3 minutes gone and this game looked like it would be a tight first half. But ACC Player of the Year Justin Jackson showed why he deserved the illustrious award. He lit up Texas Southern with five threes in the first half breaking a school record. He added 19 points in the half with five rebounds. His counterpart Joel Berry II struggled to score only posting 3 points and shooting 1-6. But his impact was deeper than the box score as Texas Southern looked to take him out the game. With that, the floor opened for other players like Kennedy Meeks and Isaiah Hicks.
The potent offense of North Carolina was on high display. Kennedy Meeks and Isaiah Hicks showed why they're one of the best frontcourt duos in all of college basketball. They put up 20 points, six rebounds and three blocks in the half. Meanwhile, Texas Southern failed to get anything going. Kevin Scott was the only one in double figures with 11 points and going 3-3 from the three-point line. The team as a whole only shot 30% from the field and facing such tough competition, that kind of play will get you eliminated in the tournament of this magnitude.
Second Half Outlook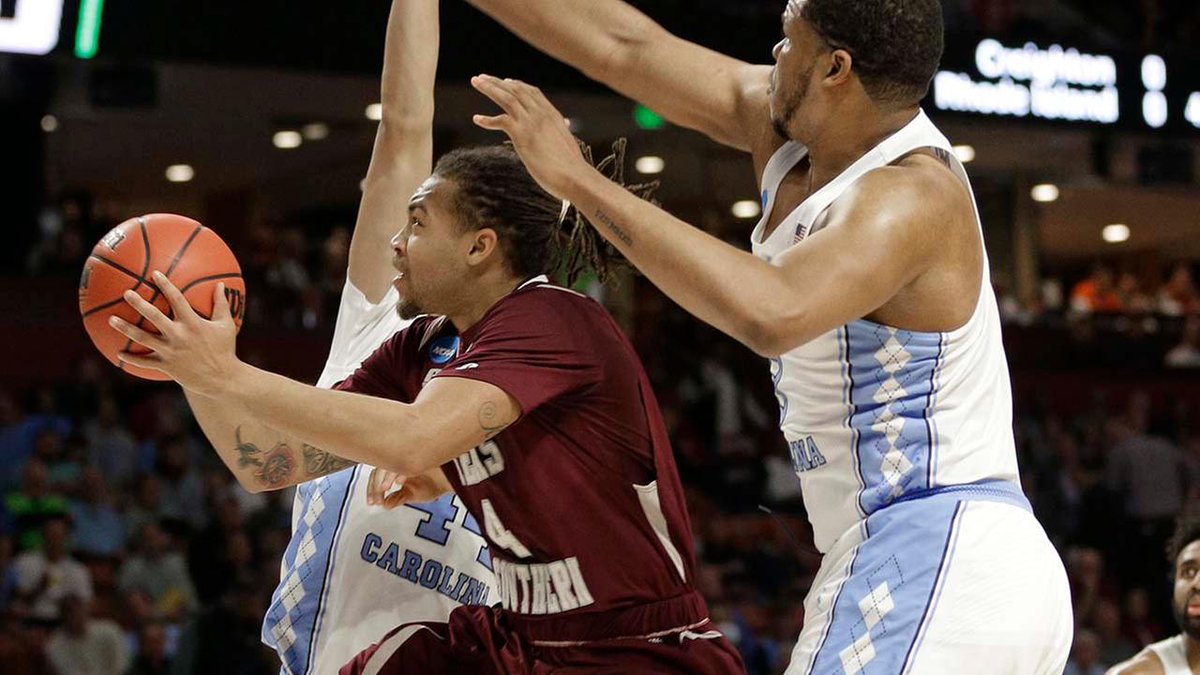 Wasn't much of a story in the second half as North Carolina was up 52-27 at the start. The rest of the game pretty much progressed this way but a big injury happened depending upon the severity. Joel Berry II tweaked his ankle after landing awkward and went to the locker room immediately. With the next game in two days, how quickly he can recover will be key to UNC's survival. After the injury, coach Roy Williams was careful with his substitutions. He played a lot of the bench even the players who never take off their warm-ups. Nate Britt started to play well in Berry's absence and this will be key if Berry isn't 100 percent. North Carolina also put up the most points so far by any team in the tournament scoring 103 points to only 64 points for Texas Southern. After the first half three-point barrage and dominant paint presence from UNC, this game was out of hand early.
What's Next for North Carolina and Texas Southern?
With this win, North Carolina will have to face #8 Arkansas after they already advanced against#9 Seton Hall. Arkansas has a really good team and shouldn't be as easy to beat as Texas Southern. Furthermore, the ankle injury to Joel Berry II could be vital as he's their leader and coach on the court. Without him, UNC could lose to any team on any given night unless Nate Britt can improve his play.
Texas Southern shouldn't be disappointed after this defeat. They played well against one of the best teams in the world and their effort should be applauded. A #16 seed has never beaten #1 seed so this is a result that was expected. For sure Texas Southern will be back in the NCAA Tournament next season hoping to achieve a better seed.