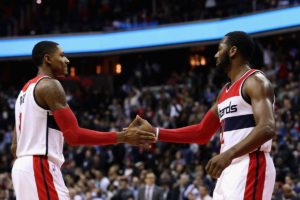 Coming off of two consecutive losses, the Washington Wizards got back on track with a 112-107 win over the Chicago Bulls.
Strong First Half
Washington had a bad taste in their mouths from two straight losses to teams below .500.  They knew they had to step up on both sides of the ball and showed that early.  The Bulls announced that Dwayne Wade was out for the season with a sprained/fractured elbow.  Washington was without Markieff Morris due to a sinus issue.  Despite being without Morris, the Wizards got a good start.  They outscored the Bulls 29-23 with Bradley Beal leading them with ten first quarter points.
In the second quarter, the Wizards stepped up on the defensive end.  This has been a struggle all season but Washington showed that they could get the job done.  Washington held Chicago to just 17 second quarter points, while putting up 30 on the offensive end.  Jason Smith, who replaced Morris in the starting lineup, finished the first half with 15 points and six rebounds.  With that great defensive quarter, the Wizards went into halftime with a 19-point lead.  John Wall had 12 assists in the half, distributing the ball well to teammates.
Another Second Half Meltdown
After a mediocre offensive first half, the Bulls started the second half on a 17-9 run.  This run cut the Wizards down to eleven points.  Robin Lopez was killing the Wizards all game.  He finished the third quarter with 23 points and 12 rebounds.  Lopez dominance down low helped Chicago outscore Washington 32-25 in the third.  This has been the Wizards story all year-long.  Starting off strong and ended
Fourth Quarter Blues
Chicago did not slow down in the final period as they started on a 9-3 run.  This run by the Bulls cut the lead down to six points.  Washington was having one of their infamous second half letdowns.  The Wizards bench could not come through on the offensive end.  Chicago's bench cut the lead down to four points with about six minutes left.  This led Scott Brooks no choice but to put the starters back in, which may have been delayed.  With 1:22 to play, Nikola Mirotic hit a three-pointer to cut the lead down to two points.  Wall came right back with a alley-oop to Marcin Gortat.  Butler then came down and scored a quick bucket to cut the lead down to two points again.
With 44 seconds left, Wall was fouled and hit a pair of free-throws to push the lead back to four.  Butler responded with a three-pointer with 39 seconds left and made it a one-point game.  Beal came down on the other end and missed a short jumper.  However, Otto Porter, Jr. was fouled underneath the basket and went to the charity strike.  After a hard foul and fall by Porter, he still drained both free-throws.  Chicago had another shot with 18 seconds left.  The Bulls put the ball in their all-star's hands in Butler.  Butler rises up for a three-pointer off a Lopez screen to tie the game but comes up just short.
Washington Gets Ugly Home Win
It wasn't the prettiest, but Washington dodged three straight losses.    Wall finished with 14 points and a career high 20 assists.  Beal had a team high with 24 points.  Ian Mahinmi had a strong game off the bench with 16 points.  Bojan Bogdanovic had 12 points and Brandon Jennings had eight assists off the bench as well.  Butler had a game high of 28 points and Lopez finished with 25 points and 12 rebounds.
After two losses to non-playoff teams and a close call to a bad Chicago team, Washington has some work to do.  Prior to the all-star break, the Wizards were on fire.  After the break, they are 8-5 with only one of those wins being by double digits.  Up next is the Charlotte Hornets tomorrow night with Washington leading the season series 2-0.
The player to watch in this game is not all-star Kemba Walker or even Nicolas Batum.  It is Marco Belinelli, who averages 17 points off the bench this season against Washington.  This is a road game, but Washington just came off a road trip where they went 4-1.  The win against Chicago can get them back on track for this game tomorrow.  If Washington can play defense like they did in the second quarter of the Bulls game, they should be fine.  The bench played well tonight but they need to play better defensively as for the starters.  If the defense get better, the wins will come easier instead of in the fourth quarter.