North Carolina reaches Elite Eight for 27th time over Butler
Entering Friday night's sweet 16, North Carolina still has an itch that needs scratching in thus to hold the national championship.
North Carolina would jump out to a halftime lead of 52-36 as the Tar Heels would advance to the school's 27th elite eight in an 82-70 victory over the fourth-seeded Butler Bulldogs.
This was a statement win for the Tar Heels after such an underwhelming performance against Arkansas.
From start to finish, North Carolina (30-7) was just the better team. Led by Joel Berry II and Justin Jackson the Tar Heels had no problem getting started. But the surprise of the evening was Luke Maye.
North Carolina built a 16-point lead making their 13 out of 18 shots while connecting on six three-pointers in the first half. The Tar Heels at one point in the first half went on a 30-14 run.
After missing 11 of his 13 shot attempts against Arkansas on Sunday, while playing through ankle pain, Berry II looked better scoring 26 points. Jackson added 24 points while Maye had his first career double-double adding 16 points and 12 rebounds.
"I got a couple of shots to fall in and felt pretty confident they kept going in," Maye said.
For Butler Andrew Chrabascz led the way with 21 points and seven rebounds, while Kelan Martin finished with 16 points. The Bulldogs simply just struggled to get easy baskets.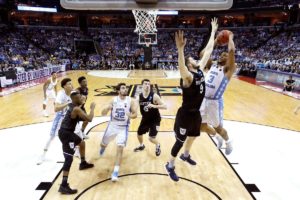 While Butler managed to whittle the deficit to single digits on a couple of occasions before halftime, North Carolina would simply answer with another rallyThe Tar Heels lead would stretch the lead back to 20 near the 12-minute mark of the second half, but Butler didn't exactly allow North Carolina to coast home.
The Tar Heel lead grew to 20 around the 12-minute mark of the second half, but Butler didn't go away easy.
A 13-4 Bulldog run made a dent in the advantage as Martin had seven in the stretch with Avery Woodson connecting on a 3-pointer. Martin closed out the run with another 3-pointer to pull Butler within 71-60.
But while the Bulldogs would cut the Carolina advantage to 10 points two minutes later, this was as close as Butler would get.
Kris Jenkins rooting for North Carolina???
Kris Jenkins, who made the 3-pointer to defeat the Tar Heels in last year's national championship game, was seated near the Carolina bench. Jenkins was cheering on his brother, senior guard Nate Britt.
North Carolina and Kentucky will meet on Sunday for the right to play in Phoenix, AZ for the Final Four.