Less than a week and a half away from training camp, all was calm across Charlotte. Fans only concerns were the usual stuff: How's Cam Newton's health? Will Christian McCaffrey be an immediate impact on the offense? However, the Panthers fired their general manager, Dave Gettleman, earlier this morning leaving many confused.
What Went Wrong?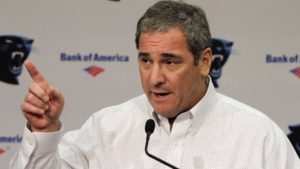 "After much thought and a long evaluation of our football operations, I have decided to relieve Dave Gettleman of his duties as general manager," Carolina Panthers owner, Jerry Richardson said in a press release. "I want to thank Dave for the role he played in our success over the past four seasons. While the timing of this decision is not ideal, a change is needed."
Gettleman became the general manager in 2013. The successes of this team outweighed any of the mishaps along the way, such as prematurely letting go of WR Steve Smith and RB DeAngelo Williams. Under his leadership, the Panthers made three playoffs appearances, including winning the NFC Championship in 2015. Last season, however, the Panthers struggled and went 6-10 as their franchise quarterback Cam Newton battled injuries.
While it's not uncommon for a team to regress after making it to the Super Bowl, nonetheless, Gettleman was fired. Many are speculating that the reason for his firing is due to contract negotiations that seemed to get sticky with older players during his time as GM.
In recent years, some have questioned the Panthers' loyalty to the players who've been most loyal to them. Even Steve Smith Jr. made a snarky tweet after news broke of the firing.
https://twitter.com/89SteveSmith/status/886992866479710208
Not to mention DeAngelo Williams chimed in on Twitter as well.
I want to publicly say @Panthers is off my list of teams I won't play for due to the firing of that snake Dave gettleman! 😎😎👌🏽✊🏽

— DeAngelo Williams (@DeAngeloRB) July 17, 2017
What's Next?
With the reactions of Williams and Smith Jr., one can draw the conclusion that Gettleman's handling of older players is what led to his demise in Charlotte. However, Richardson must think who should replace Gettleman. Regardless of his business tactics, the Panthers' success during his tenure cannot be undermined.
So many questions now lie ahead for this organization as a dark cloud now hangs over them prior to training camp. Richardson must determine where this franchise goes from here. Gettleman made tough decisions, even if they were unpopular with the fan base. This firing, if handled incorrectly, brings unnecessary uncertainty to a team that is trying to re-establish itself in one of the toughest divisions in the NFL.