Extremely talented, humble, and hardworking are just a few words to describe Marshall Defensive Back C.J. Reavis. It's no secret that he has had his fair share of ups and downs throughout his college football career.
The Journey of C.J. Reavis: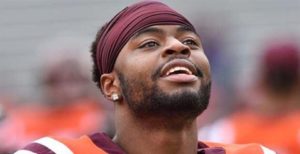 Reavis grew up in Chester, Virginia where he played high school football at Thomas Dale. Thomas Dale has produced some fantastic athletes over the years from players like former Cincinnati Bengals Running Back Rudi Johnson to Super Bowl Champion William Henderson from the Green Bay Packers. Reavis, however, was an exceptional standout to all of his former coaches, especially his high school Defensive Coordinator, Dennis Jones.
"CJ was one of, if not the, hardest workers I've ever coached. He is always trying to better himself whether it be on the field or in the classroom," Jones said. "He set goals for himself, and to this point he has achieved everything he set out to do since I started coaching him at TD. We have had many great DB's come out of TD, but CJ had it all: size, speed coupled with his strength and ball hawking abilities. He is by far the best I have ever been around."
Reavis was an Offense-Defense All-American game selection and also competed in Nike's The Opening.
Looking forward from graduation, Reavis had his pick with offers coming in from multiple schools including, Tennessee, Ohio State and Oklahoma. Ultimately he committed to Virginia Tech in 2014. Reavis spent 1 year with the Hokies where he recorded only 8 tackles but was a large contributor to special teams. All Hokie fans know that the highlight of Reavis's ​ freshman season was the blocked punt against the Virginia Cavaliers, in which the Hokies won that game 24-20.
Reavis​ was primed for an outstanding sophomore season, expected to start at the Rover position. That dream came to a bitter halt when he was dismissed from Virginia Tech due to a student conduct issue. He filed an appeal, but it was ultimately denied. His lawyer Jimmy Turk was very outspoken about the unfortunate situation and released this public statement regarding the dismissal:
​"This is an absolutely tragic decision from Virginia Tech. I think it​s completely unwarranted and is just against any sense of an application of common sense at all to what they found him responsible for. I just think it​s a very reckless and very cavalier decision."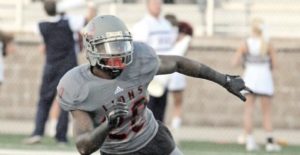 Despite the heartbreaking news about the university​'s decision, with great resolve, Reavis continued to work hard and strive for greatness. Refusing to let go of his dream, he made the decision to transfer to East Mississippi Community College, JUCO, to pursue his football career. MECC has gained fame from the hit series show on Netflix, Last Chance U. EMCC is a top junior college program where a lot of Division I athletes go when they have faced academic troubles or off the field issues.
"My time at EMCC help me put things into perspective," Reavis reflected. "I went from being on top of the world to basically the lowest level of college football. It was tough, but it humbled me, and it made me more respectful of the game. I didn't take it for granted. Not that I did at first, but I think sometimes we forget how blessed and fortunate we are."
Reavis​ had an outstanding year at EMCC. He recorded 40 tackles, 2 interceptions and a touchdown in 9 games. In December of 2015, Reavis committed to Marshall University. In the 2016 season, he recorded 60 total tackles and was a force on the Thundering Herd defense. This past January, Reavis experienced a small set back when he underwent surgery to repair a torn labrum suffered in the 2016 season.
2017 Expectations: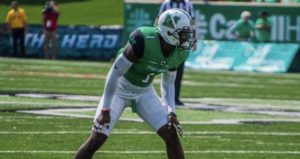 Marshall took a step back last year going 3-9 coming off of a 10-3 season in 2015. Defensive coordinator Chuck Heater, entering his 5th year with the Herd, has been improving the defense statistically every year since he joined the university.
There's no doubt that the expectations are high for not only the Thundering Herd but Reavis as well and it's something he embraces.
"My team expectations for this year are sky high. I would love for us to win a conference championship and play in a huge bowl game. I think we have all the tools to get it done," said Reavis."Individually, I want to win Conference Defensive Player Of The Year and be a Thorpe Award Finalist."
With the 2017 season right around the corner, Reavis is expected to have an outstanding senior season. Being fully healthy and fully focused, this could be the biggest year of C.J. Reavis' college career.
The Marshall Thundering Herd will kick their season off September 2nd, at home against Miami of Ohio.